23 April 2013
Samsung launches high-efficacy chip-on-board LED packages
Samsung Electronics Co Ltd of Seoul, South Korea is introducing the new LC013/26/40B family of 13, 26 and 40W high-efficiency, chip-on-board (COB) LED packages. Featuring a compact light-emitting surface (LES), the new family is designed for use in high-performance indoor and outdoor lighting, and in particular suits spotlight applications.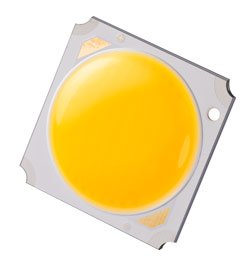 Picture: Samsung's new LC013/26/40B chip-on-board LED package. 
"The new COB family is designed to meet Zhaga specifications, and has a low thermal resistance and superior heat dissipation for high reliability," says Jaap Schlejen, senior vice president, LED lighting sales & marketing.
The LC013/26/40B series has a luminius efficacy of 129lm/W at 80 CRI (color rendering index) and 5000K CCT (correlated color temperature) and is available in 2700K, 3000K and 4000K versions. By adopting chip-on-board technology that utilizes metal core PCBs, the new COB family offers what is claimed to be high color uniformity and light quality, while achieving a high luminous flux of up to 6000lm in a single LED package.
The COB family will be available in May. Further additions to the lineup will be made later this year.
The new COB family is being displayed in booth 2645 at the LIGHTFAIR International 2013 event in Philadelphia, PA, USA (23-25 April), together with other LED packages, as well as new LED engines, lamps and L-tubes.
Visit: www.samsung.com