16 April 2013
Peregrine debuts AEC-Q100-certified SPDT RF switch for harsh-environment automotive designs
Peregrine Semiconductor Corp of San Diego, CA, USA, a fabless provider of radio-frequency integrated circuits (RFICs) based on silicon-on-sapphire (SOS), has launched an Automotive Electronics Council (AEC) Q100-certified SPDT RF switch.
The HaRP technology-enhanced PE42359 RF switch is certified to AEC-Q100 Grade 2, so it is qualified for operation in the extended temperature range of -40°C to +105°C. The switch is available in a miniature 6-lead SC-70 package and is suitable for automotive applications such as Remote Keyless Entry (RKE), emergency communication systems, Tire-Pressure Monitoring Systems (TPMS), automotive multimode compenser modules, and automatic toll systems, says the firm.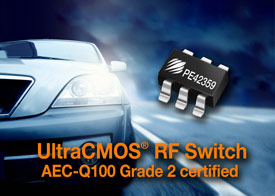 Picture: Peregrine's PE42359 SPDT RF switch.
The AEC-Q100 certification was developed to provide automotive manufacturers and suppliers with a set of industry-wide methods and procedures designed to assist in obtaining the best, most robust device for the application. AEC-Q100-certified products are graded by temperature range, with Grade 2 certification involving putting the IC through reliability stress tests over the wide temperature range of -40°C to +105°C. In order to be certified, several thousand samples of the IC must withstand the stress tests for an extended period of time. Peregrine says that, having achieved ISO/TS 16949 quality system certification a year ago, the launch of the PE42359 switch exemplifies its commitment to providing high-performance products for the automotive industry.
"The launch of the PE42359 RF switch reaffirms our commitment to expanding our product portfolio to reach new markets and customers," said Gene Lyons, VP of quality assurance. "We now have a proven ability to manufacture products that meet the rigorous quality and performance requirements of the automotive market," he adds.
"The growing trend toward more telematics and infotainment in today's automobiles is creating demand for high-performance RFICs that meet the stringent reliability standards of the AEC-Q100 stress test qualification," says Mark Schrepferman, director of the communications and industrial product line for Peregrine's High-Performance Solutions business unit. "UltraCMOS is an advanced form of silicon-on-insulator process utilizing a highly insulating sapphire substrate, which enables our products to operate reliably at elevated temperatures. This, along with the repeatability of a CMOS manufacturing process, makes our products well suited for automotive applications," he reckons.
The PE42359 switch has high ESD protection of 2kV HBM on all pins, enabling high product reliability and resulting in a longer product life, Peregrine reckons (essential for automotive applications, as warranty repairs can be costly for manufacturers). The switch also has low insertion loss (0.35dB @ 1GHz; 0.5dB @ 2GHz) and high isolation (30dB @ 1000MHz), resulting in improved overall RF performance. Using a nominal +3V power supply voltage, a typical input 1dB compression point of +33.5dBm can be achieved. With low power consumption of just 9μA and a minimum power supply voltage of only 1.8V, the PE42359 enables longer battery life in portable applications such as RKE devices, the firm claims.
The PE42359 switch is available in a miniature 6-lead SC-70 package, for $0.39 each in 10k-unit quantities. Samples and volume-production quantities can be ordered through Peregrine's global direct sales representatives and worldwide distribution partners. The firm has also announced availability of the PE42359 Evaluation Kit (part # EK42359-01, $70), which enables designers to demonstrate the PE42359 switch in their applications.
Visit: www.psemi.com