25 April 2013
Packaged LEDs for signage/professional displays to grow from 57bn to 143bn units over 2012-2018
The volume of packaged LEDs used in signage & professional displays worldwide will grow from 57 billion units in 2012 and will reach 143 billion in 2018, according to a report from market research firm ElectroniCast Consultants. The value of the LEDs consumed will rise, but the unit growth will largely be offset by declining average prices.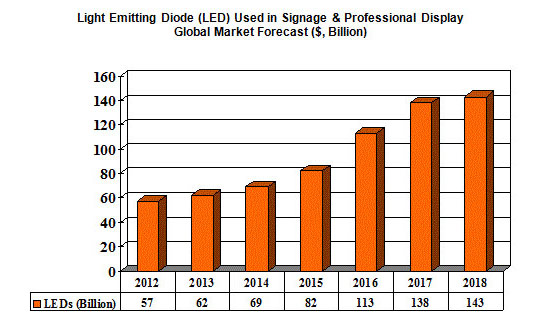 This 2012-2018 market review and forecast is presented for component-level bulbs using standard-type LEDs (with a lumen/Watt rating of less than 30lm/W) and high-brightness (HB) LEDs (more than 30lm/W).
Applications in signs & displays include building facades, large outdoor video screens, digital billboards, sport/stadium displays, small indoor retail displays, food displays (restaurants/supermarkets), signs on taxis and destination signs on mass-transit vehicles, channel-lettering/light-boxes, and LED/LCD TV screens (used exclusively for professional purposes).
The Americas (South, Central and North America) and Asia Pacific (APAC) regions are nearly equal in market share. However, consumption in APAC is forecast to grow the fastest (22.8% per year). The Europe, Middle East and African region (EMEA) has a much smaller share of global consumption versus the other regions in 2013.
Visit: www.electronicast.com