24 September 2012
TriQuint Introduces MMPA for next-generation global 3G / 4G smartphones
RF front-end component maker and foundry services provider TriQuint Semiconductor Inc of Hillsboro, OR, USA has introduced a new multi-band, multi-mode power amplifier (MMPA) that it says simplifies the increasingly complex RF front-end for next-generation global 3G / 4G smartphones and other mobile devices. The TRIUMF MMPA achieves best-in-class power-added efficiency, providing up to 15% more browsing time, adds the firm.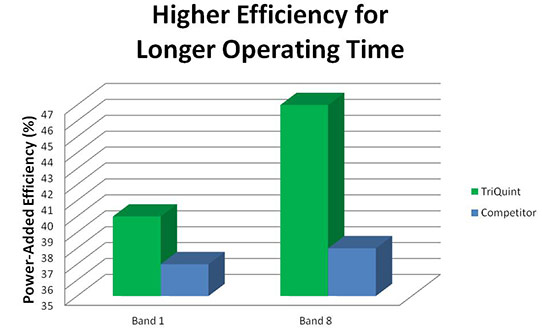 Graphic: TriQuint's TQM7M9053 TRIUMF MMPA achieves best-in-class power-added efficiency (PAE) in Bands 1 and 8. The 47% PAE in Band 8 translates into 15% more browsing time for users.
"As LTE networks roll out, next-generation smartphones have to incorporate a growing number of frequency bands. This means device manufacturers must support the rapidly growing RF content within very small form factors — without compromising performance," said Shane Smith, vice president of Global Marketing for Mobile Devices. "Our customers confirm that our new TRIUMF TQM7M9053 MMPA is optimized for these demanding applications. This integrated solution consumes 13% less PCB space than discrete components and simplifies routing to enhance system performance and time to market."
"Multimode, multiband PAs mark the rise of a new high-growth segment that will alter the course of the RF components industry," said Christopher Taylor, an analyst with Strategy Analytics. Taylor forecasts that the market for MMPAs will reach more than $700m in 2016, says TriQuint. "The biggest opportunity for MMPAs is mid- to high-end smartphones, which use the largest number of bands and modes to ensure availability of voice and data services when roaming."
TriQuint's new second-generation TRIUMF MMPA TQM7M9053 is drop-in, pin-compatible with the firm's TQM7M9023 MMPA. The TQM7M9053 offers higher efficiency at a lower cost, which already has resulted in several smartphone design wins, says the firm.
The versatile 5 x 7.5mm TQM7M9053 is a fully matched MMPA that offers quad-band GSM/EDGE and WCDMA/LTE bands 1, 2, 5 and 8 to support the 3G/4G market in North America, Europe and Asia. The firm's family of TRIUMF MMPAs combines with TriQuint's SAW and BAW filters to deliver a complete RF front-end solution for smartphones and other mobile devices.
TQM7M9053 TRIUMF MMPA is shipping now.
Tags: TriQuint
Visit: www.triquint.com