10 September 2012
STMicroelectronics highlights solar applications for silicon carbide devices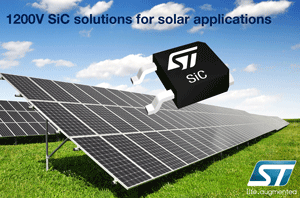 At this week's Solar Power International (SPI) 2012 event (September 10-13), in Orlando, Florida, USA, STMicroelectronics of Geneva, Switzerland, will feature a range of its silicon carbide (SiC) devices for converting solar energy into grid-quality power.
Picture: STMicroelectronics' 1200V SiC solutions for solar.
The firm's 1200V SiC diodes replace ordinary silicon diodes in the DC-DC boost converter and DC-AC inverter that convert the photovoltaic module's low-voltage output into high-quality AC power at the correct line voltage.
As a base material for diodes targeting solar-power conversion applications, SiC is superior to ordinary silicon bipolar technology, says the firm. SiC diodes can switch rapidly between conducting and non-conducting states without suffering the reverse recovery current that occurs when switching bipolar diodes. Eliminating this unwanted effect saves up to 70% of energy normally lost, maintains high efficiency over a wide temperature range, and enhances freedom for designers to optimize the system operating frequency.

STMicroelectronics says that trials using 1200V SiC diodes have shown a 2% increase in overall inverter yield, even when operating at high load and high frequency. Over the intended lifetime of inverters used in installations such as residential photovoltaic systems and high-power solar farms, this improvement can effectively save Megawatt-hours of energy.

SPI will also see STMicroelectronics highlight progress in its program to develop commercial SiC MOSFETs; an advanced class of devices which aim to offer an alternative to high-voltage silicon IGBTs (Insulated Gate Bipolar Transistor) in solar inverters. In addition to saving at least 50% of IGBT energy losses, SiC MOSFETs require no special drive circuitry and can operate at higher frequencies.
Tags: STMicroelectronics SiC
Visit: www.st.com