14 September 2012
Semprius' new facility to produce 33.9% efficient solar modules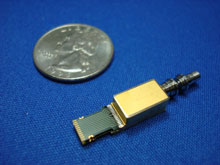 Semprius Inc of Durham, NC, USA, which designs and makes high-concentration photovoltaic (HCPV) solar modules, will officially open its first production facility on 26 September 2012, in Henderson, NC, USA. North Carolina Governor Bev Perdue, North Carolina Representative James Crawford, and Semprius CEO Joe Carr will deliver remarks during the opening ceremony beginning at 9am EDT.
Using a proprietary manufacturing process, the new facility will produce the world's highest efficiency solar modules, says Semprius. At 33.9% conversion efficiency, the firm's modules are the first to convert more than one-third of the sun's energy into electricity. Developed with the support of the U.S. Department of Energy's National Renewable Energy Laboratory, Semprius' proprietary micro-transfer printing process enables the use of the world's smallest solar cell, approximately the size of a pencil point, to manufacture modules with performance and cost advantages. Compared with conventional silicon-based modules, Semprius' modules are twice as efficient, offer consistent energy output and superior energy yields while performing much better in hot climates, adds the firm.
"The highly anticipated opening of this new facility has significant implications for the future of renewable energy," said Carr. "It's a major milestone for Semprius, and we're very proud of our team and our public and private partners that have helped us bring it in on time and on budget. With production ramped up, we will be able to effectively service our customers, including companies like Siemens and Pratt & Whitney Rocketdyne."
"The opening of Semprius' solar manufacturing plant in Henderson further strengthens North Carolina's leadership in clean technology and sustainability," said Governor Perdue. "We congratulate Semprius on all of their successes thus far and look forward to their continued growth – and with it, new high tech jobs for the highly skilled North Carolina workforce."
In the last 15 months, Semprius raised almost $40m in funding from equity investors including ARCH Venture Partners, Illinois Ventures, Intersouth Partners, In-Q-Tel, Morgan Creek Capital Management and Siemens Venture Capital. In addition, the firm was awarded North Carolina and Vance County incentives totaling almost $8m.
Semprius aims to hire more than 250 employees over the next few years.
See related items: CPV firm Semprius sets record 33.9% solar module efficiency
Tags: Semprius CPV Triple-junction solar cells
Visit: www.semprius.com