14 September 2012
Sumitomo Electric introduces 4-Channel ROSA with optical demultiplexer for 40 Gb/s QSFP+ LR4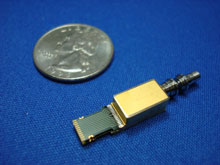 Tokyo-based Sumitomo Electric Industries Ltd (SEI), a provider of advanced optical solutions, is expanding its optical device portfolio with the introduction of a 4-channel ROSA with optical demultiplexer for 40Gb/s QSFP+ LR4.
QSFP+ is a compact transceiver emerging as the standard for 40GbE. Its technology for longer-reach single modes finds many applications beyond 100m such as communication equipment used for data storage, networking devices for data centers, and enterprise networking where high-density power-saving systems are required.
The ROSA satisfies the IEEE 802.3ba requirements for the 40Gb/s optical receiver. The 40GbE performance is based on transmitting and receiving four different wavelengths at 10Gb/s. This ROSA includes four high-speed PIN photodiodes, four transimpedance amplifiers, and an optical demultiplexer, which consists of specially designed low insertion loss filters and mirrors. The device supports extremely high receiver sensitivity of -16dBm, says SEI.
By applying this technology to higher bit rate devices, SEI says it will offer a 4-channel ROSA for 100GbE.
For details, visit stand 600 at ECOC (Amsterdam, The Netherlands, 17-19 September).
Tags: Sumitomo Electric Industries Ltd ROSA
Visit: http://global-sei.com