19 September 2012
Samsung selects Javelin's CMOS PAs for Galaxy S Duos smartphone
South Korea's Samsung Electronics Co Ltd has selected CMOS-based PAs from Javelin Semiconductor Inc of Austin, TX, USA to support its new Galaxy S Duos Android-based smartphone, which features a 4-inch touchscreen, 1 GHz processor, 5 megapixel camera, Bluetooth, GPS and Wi-Fi.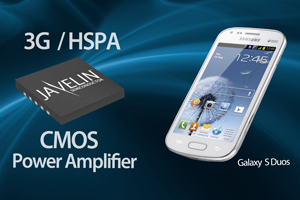 Picture: CMOS-based PAs from Javelin Semiconductor support Samsung's Galaxy S Duos smartphone.
"Javelin is a proven PA supplier capable of consistently exceeding our customer's stringent quality and reliability requirements," said Brad Fluke, president and chief executive officer of Javelin. "Our technology benefits have enabled our customers to quickly bring handsets to market using multiple Tier 1 baseband chipsets."
"Javelin's ongoing success with the world's largest mobile phone manufacturer is an impressive accomplishment," said Brian Modoff, senior wireless equipment analyst at Deutsche Bank. "They continue to demonstrate the capability of monolithic standard CMOS to be a mainstream 3G PA technology."
Javelin's PA family is designed in a standard CMOS process and is shipping production volumes of the most popular 3G frequency bands. With the introduction of the Galaxy S Duos, Javelin says that its CMOS PA technology is shipping worldwide into all major territories.
Tags: Javelin CMOS PAs
Visit: www.javelinsemi.com
Visit: www.samsung.com