26 October 2012
Veeco's Q3 results reflect stubborn market
For third-quarter 2012, epitaxial deposition and process equipment maker Veeco Instruments Inc of Plainview, NY, USA has reported total revenue of $127m, while its adjusted EBITA (earnings before interest, income taxes and amortization) and earnings per share were $17m and $0.34, respectively (on a non-GAAP basis).
| | | | | | |
| --- | --- | --- | --- | --- | --- |
| Fiscal | | | | | Q3/2012 |
| Revenue | | $191.7m | $139.9m | $136.5m | $127m |
John R. Peeler, Veeco's chairman & CEO, commented that these headline results were in line with the company's guidance, adding, "Veeco generated $46m in cash flow from operations, ending the quarter with $574m in cash and short-term investments." Third-quarter LED & Solar revenues were $94m: approximately $79m in MOCVD and $15m in MBE. Data Storage revenues were $33m.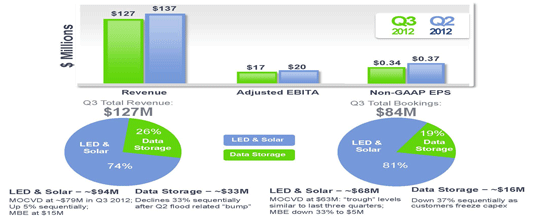 Figure 1: Veeco's revenue and earnings as well as orders in Q3 vs Q2/2012.
"Third-quarter bookings were weak at $84m, representing trough levels in all businesses. LED & Solar orders totaled $68m: MOCVD continued to bump along the bottom at $63m – as LED customers work through overcapacity and delay significant fab expansions," Peeler continued.
"MBE bookings declined 33% sequentially to $5m, with customer consolidation causing a slowdown in production buys for wireless applications. Data Storage customers froze spending due to hard-drive overcapacity and a weakening demand outlook, resulting in a 37% sequential decline in orders to $16m." Veeco's book-to-bill ratio was 0.66:1 and quarter-end backlog was $187m.
In a press conference held on 22 October, Veeco forecast that its fourth-quarter 2012 revenue would fall to $100-115m and earnings per share would be between ($0.09) to $0.03 on a GAAP basis ($0.04 to $0.16 on a non-GAAP basis). But the company warned that in the fourth quarter it is likely to have to take additional restructuring actions.
Peeler added, "Veeco's 2012 total revenue is forecast to be over $500m, which will mean that we will have delivered double-digit profitability, successfully managing through this challenging year." One year ago the company was forecasting that its fourth-quarter revenue would "fall to $175-215m", although by the full 2011 year-end the company achieved record sales of $979m, announced in February 2012.
"We are cautious about short-term business conditions since there is still no clear sign that the economy is improving. However, the LED market is getting better – general lighting is growing, excess capacity is being absorbed, and customers are reporting more stable business conditions," Peeler notes.
"An MOCVD order snap-back is inevitable as LEDs progress from 5% of all lighting to over 30% over the next few years. Insatiable demand for storage will drive future hard-drive industry capital expenditures and technology investments. We anticipate that Veeco's orders will improve in the coming quarters."
"In the meantime, we are focused on lowering our cost structure while protecting investments in R&D and new products. Our goal is to remain profitable while funding our future. We are market leaders with exceptional technology and customer roadmap alignment. We are well positioned for future growth as our end-markets recover and the world adopts solid-state lighting," Peeler believes.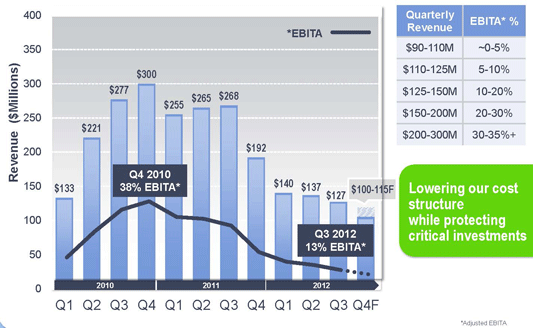 Figure 2: While protecting critical investments, Veeco plans to lower its cost structure to maintain its profitability.
Following the company's announcements, the subsequent press conference addressed several key market issues and potential developments by the company. "Given the overall challenges in the market, we delivered pretty good results this quarter," said Peeler. "While MOCVD orders remained low in Q3, there are some positive trends in LED. General lighting is growing, and customer tool utilization rates are up. Korean customers report utilizations in the 60-80% range. Taiwan is 80-100%, and in China leaders are over 90%."
"On another positive note, Veeco service revenue grew 36% through the first nine months of the year. As hundreds of MOCVD tools are coming off warranty, we're selling more consumables, spare parts, and service contracts, and in fact our service revenue is better in every quarter of 2012 than in 2011."
Considering some of the difficult aspects of the company's marketplaces, Peeler added, "A quarter ago [end of Q2] we thought that orders would start to improve in the second half of 2012. They in fact worsened in data storage and MBE while MOCVD continued at the previous low levels. As far as R&D is concerned, we expect to spend about as much on this in 2012 as we did in 2011, and we'll be in great shape to win as our markets recover."
Veeco's chief financial officer David Glass commented on the firm's guidance for the current [fourth] quarter: "Given the anemic bookings in our Data Storage and MBE businesses the last couple of quarters, we expect that Q4 revenues will decline in both businesses, whereas MOCVD should remain relatively flat. Gross margins are expected to be around 40-41%, and our goal is to keep OpEx relatively flat at right around $43m. This achieves our July [2012] target to bring OpEx back to Q1/2012 spending levels."
Asked about market share, Peeler remarked, "We were at about 50-plus percent in 2011, and I think in the last quarter we calculated 62%. It's pretty high. I think as you get above that point it does get harder and harder to shift it more. So we will continue to put out great products and do a great job supporting our customers, and hope to grow it."
Acknowledging that the general marketplace downturn had endured longer than Veeco had expected, Peeler said, "but we're confident that the market will come back, which is why we have continued to fund our R&D and make sure that we keep our leadership position in having the best products that have the lowest cost of ownership in the market. We've been able to do that without dropping into a loss position or building up years of inventory."
So what shape and position would Veeco have when the downturn finally ends? Peeler answered, "We do anticipate being in a better position. We think we are in a better position, and have the strategy that enables us to maintain that."
During the conference, analyst Jed Dorsheimer (managing director, Equity Research, at Canaccord Genuity) referred to Veeco having "$15 a share in cash on the balance sheet, and only $40m of that tied to customer deposits," before asking Peeler whether with this cash-rich position meant that "further merger & acquisition activity was one of his priorities?"
Peeler replied, "First of all, the $15 a share we got the old fashioned way, we earned it from a lot of hard work. So we treat that very carefully, and we think it's important to have that as a buffer in case we need it someday. We are looking at acquisitions. We've been looking at acquisitions for the last several years, and intend to be very selective. We've done some technology acquisitions already that have been successful for us as a company, and some tuck-ins. But we'll keep looking until we find the right deal. I don't really have any feeling of urgency to spend our money."
Veeco's MOCVD revenue falls 8% in Q2
Veeco's revenue falls 27% in Q1, but MOCVD orders show modest rebound
Veeco's revenue falls 28% in Q4/2011 due to MOCVD down 32%
Veeco's Q3 growth suppressed by slowdown in TV demand and China push-outs
Veeco's Q2 yields record orders as MaxBright comprises 40% of MOCVD orders
Visit: www.veeco.com
Author: Matthew Peach, contributing editor