1 October 2012
Osram's Duris E 5 LEDs chosen for FuturoLighting's Catherina
2

fixtures

LED lighting solutions specialist FuturoLighting of Piestany, Slovakia (a certified partner in Osram's 'LED Light for you' network) has launched its Catherina2 ceiling fixture, a new solution for widespread use in interior lighting (architectural, retail or residential lighting).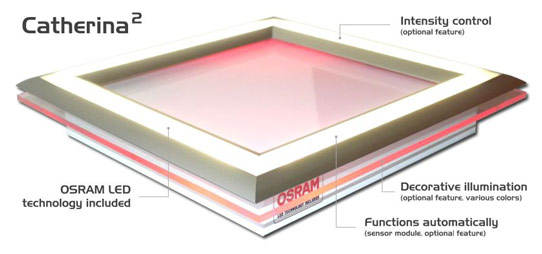 Incorporating Duris E 5 LEDs from Osram Opto Semiconductors GmbH of Regensburg, Germany (a mid-power LED specially developed for applications requiring high-output, homogenous planar light), Catherina2 has dimensions of 300mm x 300mm x 55mm, power consumption of about 25VA and gives out around 1600lm in near-Lambertian light distribution. The luminaire is optionally available with a motion sensor and emergency module and has a long operational lifetime.
A smart sensor module detects movement and distinguishes between day and night. This functionality was developed for hotel corridors and rooms where light activation is only required when customers are present in order to decrease facility power consumption. Based on customer requirements, Catherina2 can be equipped with a new emergency module (currently under development) based on Li-ion battery technology. FuturoLighting says that, due to Osram's LED technology, Catherina2 offers high efficiency with minimal power requirements, a life expectancy of over 50,000 hours and requires no maintenance other than normal dusting/cleaning during the whole product life.
The Duris E 5 LED is suitable for a particularly homogenous distribution of light in panel lights, says Osram Opto. With a color temperature of 4000K and a color-rendering index (CRI) of 85, the LEDs generate a light color that is similar to daylight (particularly important for Catherina2's areas of application – offices and retail lighting). Duris E 5 LEDs are claimed to be among the most efficient LEDs on the market in their performance class (mid-power), achieving 110lm/W (at 4000K and 120mA). Since their launch in October 2011, output has increased by 25%. They now also achieve lumen maintenance figures in accordance with the IESNA LM-80-08 standard. These results are said to be a key factor in the Energy Star certification of LED lamps and luminaires in the USA and also are increasingly being demanded worldwide as a standardized test method for lumen maintenance.
"The excellent price/performance ratio of this LED is prompting more and more manufacturers to convert their product designs to LED technology," claims Osram Opto product manager Andreas Vogler.
Visit: www.osram-os.com
Visit: www.futurolighting.com