4 October 2012
Anadigics PAs power Samsung Galaxy Express
GaAs-based broadband wireless and wireline communications component maker Anadigics Inc of Warren, NJ, USA is shipping production volumes of its ALT6181 multimode multiband power amplifier (MMPA) to Samsung Electronics for the new Galaxy Express smartphone available soon through AT&T.
Anadigics' MMPAs leverage exclusive InGaP-Plus technology and patented design architectures to offer extended battery-life, as well as quad-band GSM/EDGE and dual-band WCDMA/LTE functionality in a single package to minimize printed circuit board (PCB) space requirements.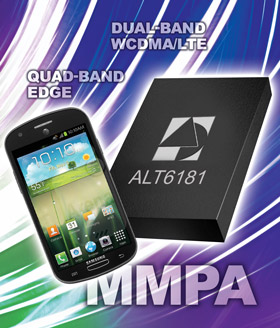 "Multimode multiband smartphones that provide GSM/EDGE, WCDMA, and LTE functionality represent a growing segment of the wireless market as demand for high speed data continues to increase. Anadigics is well positioned to capture share in this segment by leveraging our advanced technology and design expertise to provide OEMs and ODMs with highly integrated solutions that help save space, extend battery-life, and reduce time-to-market." said Jerry Miller, vice president of Wireless Mobile Products at Anadigics.
ALT6181 MMPAs feature an integrated voltage regulator, separate single-ended RF chains, and high directivity couplers in a 5mm by 7.5mm package. WCDMA/LTE linearity specifications for bands 1, 5, 6, 18, 19, and 26 have been enhanced, while ensuring that critical harmonic, noise and intermodulation performance results in superior mobile device performance, says the firm. The ALT6181 MMPA provides optimal WCDMA/LTE efficiency across all power levels, without the use of a DC-DC converter. This MMPA delivers high GSM/EDGE efficiency at all power levels.
MMPA key highlights:
>40% efficiency in high power mode combined with >20% efficiency in low power mode
Best-in-class linearity at maximum output power
Quiescent current of 4 mA
High GSM/EDGE efficiency at all power levels
EDGE mode is optimized for the best combination of linearity and efficiency
Meets stringent modulation mask requirements under all conditions
Quad-band GSM/EDGE and dual-band WCDMA/LTE in a single package
Compact, low profile 5mm by 7.5mm x 0.9mm package
Internal voltage regulation
Integrated RF couplers
Visit: www.anadigics.com