23 October 2012
Asahi Kasei orders Aixtron's CCS MOCVD system for next-generation optoelectronic and senor device development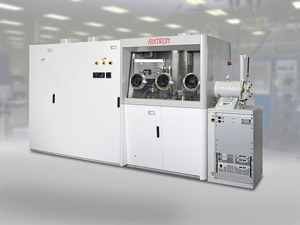 Deposition equipment maker Aixtron SE of Herzogenrath, Germany says that in Q1/2012 Asahi Kasei Corporation, of Japan, ordered an Aixtron Close Coupled Showerhead (CCS) 6x2-inch configuration metal organic chemical vapour deposition (MOCVD) system. To be delivered in Q4/2012, the system will be used to develop next generation arsenide-phosphide-based optoelectronic devices and antimonide-based sensor devices.
Picture: Aixtron's CCS 6x2-inch configuration MOCVD system.
Asahi Kasei chose the system based on its flexibility for R&D purposes combined with its ability to grow on small and large wafers, says Aixtron. CCS-based processes can be easily scaled-up later for volume production. Furthermore, the CCS concept also allows high yields with larger area devices. Asahi Kasei has also ordered special features for its system including an EpiTT, an ARGUS multi-channel pyrometer, and Gap Adjustment.
Tags: Aixtron Asahi Kasei MOCVD
Visit: www.aixtron.com