1 November 2012
Showa Shell adding 2MW power plant to roof of Solar Frontier's Kunitomi factory
Japanese energy business Showa Shell Sekiyu and its Tokyo-based subsidiary Solar Frontier – the world's largest manufacturer of CIS (copper indium selenium) thin-film photovoltaic (PV) solar modules – are cooperating on a new solar power generation project to be installed on top of what is the largest CIS thin-film solar module production facility (Solar Frontier's Kunitomi factory in Miyazaki Prefecture, which has an annual production capacity of 900MW).
Construction of the 2MW power plant is scheduled to be finished this year. Once completed, there will be 7.3MW of solar power capacity installed or planned for Kunitomi town (equivalent to about 30% of the town's residential power needs).This will be Showa Shell Sekiyu's second commercial solar power plant after the Niigata Yukigunigata Megasolar power plant in Niigata Prefecture.
The new project will add to an existing 2MW of Solar Frontier modules on top of building 2 that supply power directly to the Kunitomi plant. The power generated by the new modules on building 3 will be sold to Kyushu Electric Power Company. Solar Frontier, which owns the Kunitomi Plant, will lease the rooftop to Showa Shell Sekiyu.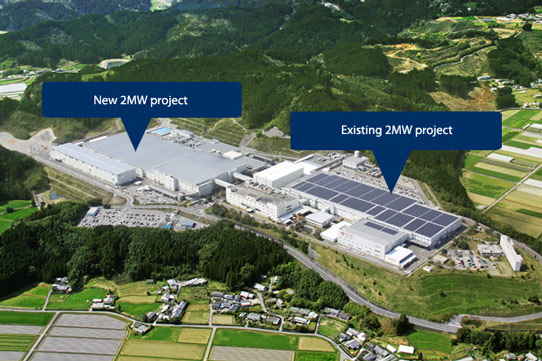 Picture: Solar Frontier's Kunitomi factory.
Solar Frontier's flagship Kunitomi Plant began commercial production of CIS PV modules in February 2011, and all lines at the plant were operational by that July. The plant is Japan's largest solar module production plant (as well as being the world's largest plant producing CIS thin-film solar modules). Currently, modules produced at Kunitomi have a conversion efficiency that exceeds 13%, and the amount of power generated (kWh) per installed capacity (kW) exceeds that of other solar modules, it is reckoned.
Tags: Solar Frontier CIS
Visit: www.solar-frontier.com