22 November 2012
Oclaro's quarterly earnings slip further into red
Optical components, modules and subsystems developer Oclaro of San Jose, CA, USA has reported financial results for its fiscal first-quarter 2013 (ended 29 September 2012), including about ten weeks of operating results of Opnext Inc of Fremont, CA (acquired for $177m on 23 July). Oclaro's results for fiscal Q4/2012 were pre-merger Oclaro and did not include the operating results of Opnext.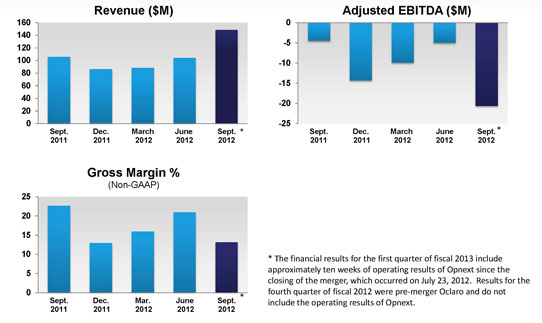 Graphic: Oclaro's revenue, gross margin and adjusted EBITDA for fiscal Q1/2013.
Revenue was $148.8m for Q1/2013, compared with $104.4m in Q4/2012, and below the low end of the guidance of $154-168m (issued on 31 July). Pro forma combined revenue, including Opnext's business for the full quarter, totalled $160.2m. On a non-GAAP basis, gross margin was 13%, compared with 21% in Q4/2012. Operating loss was $29.4m, up from $9.9m.  
Despite the apparent quarter-on-quarter revenue improvement, Oclaro's adjusted EBITDA (earnings before interest, taxes, depreciation and amortization) was negative $20.6m, compared with negative $5m last quarter. Excluding a 'gain on bargain' purchase of $39.5m related to the acquisition of Opnext, net loss was $31.1m, compared with $10.5m last quarter, which excluded an $11.7m gain on the sale of assets and $3.4m of net flood-related income from insurance advances (net of additional write-offs and expenses) due to the flooding in October 2011 at Thailand-based primary contract manufacturer Fabrinet Co Ltd.
During the quarter, cash, equivalents and restricted cash rose from $62.4m to $94.4m. Subsequently, on 2 November, Oclaro closed an extension of its line of credit with Wells Fargo Capital Finance, which also increased the line to $50m with a $50m 'accordion provision' structured to allow the potential for additional banks to participate as syndication partners in the future. The credit has a five-year term and the firm expects in excess of $10m additional short-term availability on top of the $37m outstanding (as of 29 September).
"While our financial results for the fiscal first-quarter 2013 were disappointing, our integration is on track," said chairman & CEO Alain Couder. "As the new Oclaro, we were immersed in integration activities, and therefore did not fully contemplate all potential execution risks in our forecast. With the difficult market conditions facing the industry, we focused on short-term synergies and expense reduction, which will reduce our combined expenses by $9m per quarter in the December 2012 quarter compared to pre-merger levels," he added.
"In the meantime, our new organization is firmly in place and we are fully operating as the new Oclaro. With the continuing soft telecom market, our focus is to execute on synergies that are expected to improve margins over the next few quarters," continued Couder. "In addition, we are also focused on ramping new products, including 100G, that we expect will position Oclaro well for a positive turn of the telecoms market."
For its fiscal Q2/2013 (ending 29 December 2012), Oclaro expects revenue of $145-162m; gross margin of 12-18%; and adjusted EBITDA of between negative $20 and negative $9m.
"Most integration actions are now behind us," said Couder about the acquisition of OpNext. "Our transfers are also on track with Shenzhen moving to Venture in Malaysia and our Japan facility moving to Sagamihara, which is an earthquake-proof building.
"The primary focus has been to execute new product introduction with the combined company, completing our integration and plant synergy to strongly position us for the telecom business rebound. So, as a result of this we expect to reach $9m in quarterly cost saving in the December quarter [fiscal Q2/2013]. This could mean a bottom-line improvement of five points."
Considering the situation of both Oclaro's markets and customers, Couder added, "The telecom market right now is slow: North America is kind of flat; Europe is weak and China is slowing down; Japan is also slow and therefore there is lower demand for our products right now. It's also causing a delay in recovering from the loss of business caused by the floods earlier this year, because the customers who gave the business to our competition during the flood don't have a need for a new supplier right now," he noted.
"Customer feedback on the merger continues to be extremely positive. We are now considered as a preferred partner. We expect that this is going to increase a number of design wins and we believe that we are well positioned to regain the market share that we lost," Couder commented.
"The new product pipeline of the new Oclaro post-merger is very robust and we expect those new products to have a positive impact on revenue as we run production. We expect 100G to be a speed that is going to be there for a long time and very important to the future of optical technology in the telecommunication market.
"The old Oclaro had mostly the line side, but not the client side, [so] the combination of the two companies now makes ours a full offering. We are already shipping the 100G coherent transponder, we have samplings of 4x28 tunable CFP transceivers, we are sampling also a 4x28 fixed-wavelength CFP transceiver, we are working on short-distance VCSEL-based products, we are delivering components to customers who are building 100G solutions themselves. We are delivering initial samples of a line laser that provides a more effective solution and a more reliable solution than the current external-cavity laser that our competition offers right now," Couder claimed.
Chief financial officer Jerry Turin added, "Gross margin was 13%, compared to the guidance range of 17-21%. The shortfall was primarily due to lost contribution dollars from lower revenues; however, we also had unabsorbed overhead from running lower volumes through our fabs.
"We continue to expect in excess of $45m in annualized synergies [from the Opnext acquisition] and we are targeting to achieve them within the next 12 months… Certain of these synergies, in particular vertical integration of components into modules and subsystem product, will continue to deliver incremental benefit over a longer period of time. We expect to exit the current December 2012 quarter with our breakeven EBITDA level at $175m of revenues," Turin added.
He continued, "We have also filed Oclaro formal insurance claims associated with the Thailand flood in amounts totaling $35m. We expect to file incremental claims beyond this amount in calendar 2013, so at this time do not expect those additional claims to be material relative to the $35m levels. We have previously received $11m in advances on these claims, so we now have an additional $24m in play."
Turin concluded, "Our next-quarter guidance reflects soft December 2012 expectations discussed by many of our peers and in many parallel technology spaces. This guidance reflects softer market conditions for December than we expected approximately four weeks ago when we announced our preliminary revenues for the September quarter and the expectation of revenue growth in December."
Oclaro's revenue almost back to pre-flood levels

Oclaro and Opnext complete merger
Oclaro's growth constrained by Thailand flood recovery and Shenzhen plant stoppage
Visit: www.oclaro.com
By Matthew Peach, Contributing Editor