14 November 2012
Fairchild's launches its first SiC BJTs, offering low power loss at high temperature
Fairchild Semiconductor of San Jose CA, USA, which makes silicon chips for power and mobile designs, has announced silicon carbide (SiC) technology suitable for power conversion systems.
The firm notes that, in an effort to achieve higher power density - and to meet strict efficiency regulations and system up-time requirements - industrial and power electronic designers are challenged with constantly reducing power losses and improving reliability in their designs. However, improving these critical design capabilities in applications such as renewable energy, industrial motor drives, high-density power supplies, automotive, and down-hole can complicate a design as well as drive overall system costs higher.
Fairchild says that, by introducing SiC-based offerings, it is helping designers to meet these challenges, as well as reinforcing its product range in high-performance power transistor technology.
The firm's SiC capabilities include:
optimized, semi-standard, and customized solutions that take advantage of the firm's large portfolio of semiconductor devices and module packaging technologies;
technologies that simplify engineering challenges with functional integration and design support resources that minimize components while reducing engineering time; and
meeting the needs of device makers and chipset suppliers by integrating device technologies into smaller packages that offer size, cost and power advantages.
Among the first products to be released in the SiC portfolio is a family of bipolar junction transistors (BJTs) that offer high efficiency, high current density, robustness, and easy high-temperature operation, the firm claims. By leveraging high-efficiency transistors, the SiC BJTs enable higher switching frequencies due to lower conduction and switching losses (from 30-50%) that provide up to 40% higher output power in the same system form factor.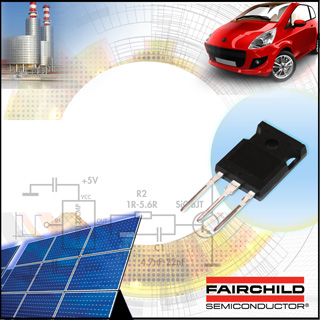 Fairchild's SiC BJT, claimed to be the most efficient 1200V power conversion switch.
Enabling the use of smaller inductors, capacitors and heat sinks, the robust BJTs can lower overall system costs up to 20%, reckons Fairchild. With performance levels that drive much higher efficiency and superior short-circuit and reverse-bias safe operating area, the SiC BJTs can play a significant role in optimizing the power management of high-power conversion applications, the firm adds.
As part of a complete SiC solution, Fairchild has also developed plug-and-play discrete driver boards (a 15A and 50A version) that, when used in conjunction with its SiC BJTs, not only provide increased switching speeds for reduced switching losses and better reliability, but also allow designers to easily implement SiC technology into their applications, it is claimed. Application notes (providing designers additional support needed to design with SiC devices) and reference designs (allowing the development of driver boards to meet specific application needs) are also available and are intended to reduce design time and shorten time-to-market.
Fairchild's SiC BJTs are available in a TO-247 package. Engineering samples are available for qualified customers. 
SiC BJT versus other SiC devices
Fairchild lists the properties of its SiC BJT devices (compared with other SiC devices) as follows:
Most efficient 1200V power conversion switch ever made (the lowest total losses, including switching, conduction and driver losses, and the lowest switching loss at any given R

ON

, of all 1200V devices);
Straight-forward driving (normally-off feature reduces risks, complexity and performance limiting designs; stable base input that is not sensitive to over/under-voltage peaks); and
Robust and reliable (high-rated operating temperature of T

j

=175°C; easy paralleling due to positive temperature coefficient for R

ON

and negative temperature coefficient for gain; and stable, rugged V

be

forward voltage and reverse blocking capability).
Visit: www.fairchildsemi.com/sic