30 November 2012
JPL's chief technologist and Caltech professor Dr. Jonas Zmuidzinas visits Brolis Semiconductors
Brolis Semiconductors Ltd of Vilnius, Lithuania has received a visit from NASA's Jet Propulsion Laboratory's chief technologist and Caltech professor Dr. Jonas Zmuidzinas.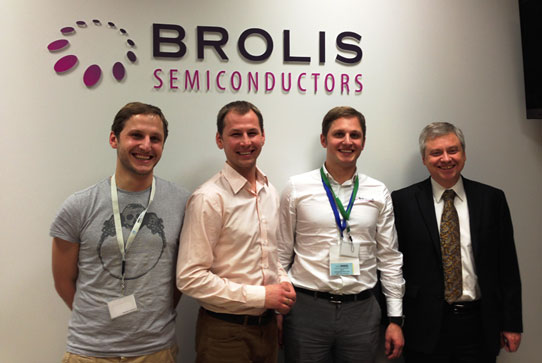 Picture: From left to right: Kristijonas Vizbaras, Dominykas Vizbaras, Augustinas Vizbaras and Prof. Jonas Zmuidzinas. (Photo J. Zmuidzinas).
Zmuidzinas toured Brolis' new epitaxial wafer production facility, which is due to officially open on 5 December. Brolis specializes in mid-infrared type-I GaSb laser diodes and MBE, manufacturing epitaxial wafers for antimonide and arsenide materials for thermal imaging focal plane arrays, CPV and custom devices. Zmuidzinas acknowledged the state-of-the-art status of Brolis facility, technology, knowledge and results, providing an interest of cooperation for upcoming space missions.
"I am particularly glad to host Prof. Jonas Zmuidzinas at our site, since he was a director of Microdevices Laboratory at NASA's JPL in the 2007-2011 period, prior becoming the chief technologist. JPLs Microdevices Laboratory research focus is very similar to the work we develop at Brolis, including molecular beam epitaxy of antimonides and GaSb mid-infrared laser development. So, it pleases us that our efforts are being acknowledged by such experts in the field." says Augustinas Vizbaras, COO of Brolis Semiconductors.
Tags: Brolis MBE GaSb laser diodes
Visit: www.brolis-semicon.com