13 November 2012
UOC plans laser diode production capacity ramp with purchase of AIX 2600G3 planetary reactor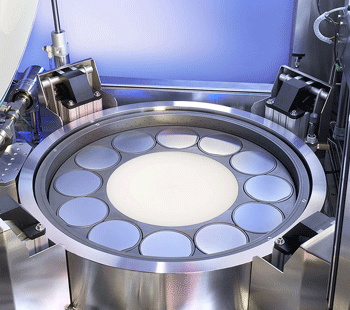 Taiwan's Union Optronics Corp (UOC) has purchased an AIX 2600G3 planetary reactor from Aixtron SE of Herzogenrath, Germany, to expand production of gallium arsenide (GaAs) based laser diodes. Purchased in Q2/2012 and due for delivery in Q4, the system is capable of handling 49x2-inch wafers in each run.
Picture: Aixtron's AIX 2600G3 Metal Organic Chemical Vapour Desposition (MOCVD) planetary reactor.
UOC's president, Dr. Hir-Ming Shieh, said "Based on the good experience with our existing Aixtron AIX 2600G3 system, we are now preparing capacity for expanded business opportunities with this new AIX 2600G3. We consider this configuration to be the most suitable choice to ramp up our advanced laser production capacity."
UOC was founded in 1996 with its main products being optical laser diodes with wavelengths
ranging from infrared (1550nm) to red (630nm). The company also sells epitaxial wafers,
chips, and packaged laser diodes.
Tags: Aixtron MOCVD GaAs laser diodes
Visit: www.aixtron.com