23 May 2012
Solar Frontier and BELECTRIC connect largest CIS PV plant to the grid
Tokyo-based Solar Frontier (a subsidiary of Japanese energy business Showa Shell Sekiyu K.K.) – the largest manufacturer of CIS (copper indium selenium) thin-film photovoltaic (PV) solar modules - and Germany-based Belectric - the world's largest solar engineering, procurement & construction (EPC) firm – have announced the completion and grid connection of the world's largest CIS thin-film solar power plant, following installation of about 205,000 Solar Frontier modules.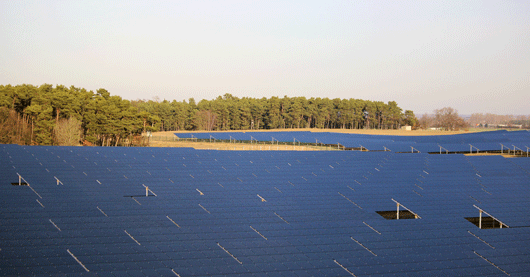 Picture: Solar Frontier's modules at the 28.8MW BELECTRIC project in Bochow, Germany.
Solar Frontier says that the 28.8MW CIS thin-film power plant, in Bochow, Brandenburg, Germany, shows the increasing significance of CIS technology in the project business and the confidence that major banks have in Solar Frontier and its products. The project's investor is CommerzReal and financing is provided by HypoVereinsbank (HBV)/UniCredit. The plant also underlines the working relationship between Solar Frontier and BELECTRIC in the project segment, which was further strengthened in March through the creation of the joint venture firm PV CIStems GmbH.
"We decided to realize this project with Solar Frontier due to the efficiency and reliability of their CIS modules," says Bernhard Beck, CEO of BELECTRIC Solarkraftwerke GmbH. "Moreover, Solar Frontier's long-term strategy and manufacturing expertise of CIS thin-film modules were additional key decision-making criteria for us," he adds.
"This project not only shows the confidence BELECTRIC has in the performance and reliability of our CIS modules, but also the trust that financial institutions like HypoVereinsbank and CommerzReal are placing in our technology," said Wolfgang Lange, Managing Director, Solar Frontier Europe. "The joint project with BELECTRIC once again emphasizes the strength of our collaboration," he adds.
The Solar Frontier modules used for the project were produced at its gigawatt-scale Kunitomi plant in Miyazaki, Japan, the world's largest CIS production plant. Certifications for the modules have been issued by TUV Rheinland Japan (in accordance with IEC), Underwriters Laboratories, and BRE Global (in accordance with Microgeneration Certification Scheme MCS). Certifications for salt and ammonia resistance confirm their suitability for installation in coastal and agricultural areas, notes Solar Frontier.
"The commissioning of this CIS thin-film solar power plant is an important step in the transition to renewable energy and highlights the achievements of the Brandenburg region," comments BELECTRIC Solarkraftwerke's chief scientific officer Martin Zembsch. "Special thanks go also to the administrative and municipal elected officials, who promoted and supported the project."
Tags: Solar Frontier CIS thin-film PV modules
Visit: www.solar-frontier.com
Visit: www.belectric.com