31 May 2012
Haiyong Gao appointed editor of Semiconductor Today ASIA magazine
Oxford, UK, 31 May 2012: Juno Publishing and Media Solutions Ltd, publisher of Semiconductor Today and Semiconductor Today ASIA, is pleased to announce the appointment of Dr. Haiyong Gao to the newly created role of Editor, Semiconductor Today ASIA.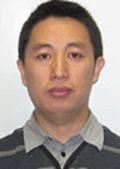 Haiyong is currently a postdoctoral fellow of the Institute of Materials Science, University of Connecticut, where his research includes: GaN and ZnO nanostructures growth and characterization; GaN and ZnO nanostructure-based device fabrication; SEM, TEM, XRD and magnetic property characterization of semiconductor materials; and Nanostructure-based sensor device fabrication and characterization.
Picture: Haiyong Gao.
Prior to joining the University of Connecticut, Haiyong was a Postdoctoral Research Associate at the School of Engineering, Virginia Commonwealth University. His research was: MOCVD growth of GaN materials and device structures; GaN MBE; GaN-based VCSEL devices; Epitaxial Lateral Overgrowth (ELOG); LEDs and FETs; Deep ICP etching of GaN and device fabrication.
Haiyong gained his Ph.D. in Micro-Electronics and Solid State Electronics from the Semiconductor Lighting Research and Development Center, Institute of Semiconductors, Chinese Academy of Sciences, Beijing, China in 2008, under the supervision of Professor Jinmin Li. His research was: Micro/Nano patterned sapphire substrates; MOCVD growth of GaN epilayers and devices; GaN based LEDs; Nonpolar GaN growth and characterizations; Raman Characterizations; GaN surface roughening; ZnO nanostructures on Nitrides.
A co-author of more than 30 research papers and a chapter in the Encyclopedia of Semiconductor Nanotechnology, and a co-holder of several patents, Haiyong brings a wealth of experience to the role of Editor, Semiconductor Today ASIA.
"Earlier this year we introduced the first issue of Semiconductor Today ASIA, the Chinese-language version of Semiconductor Today magazine. We used this issue to gain a better understanding of the market in North-East Asia, while at the same time searching for an editor with specialist industry and technical knowledge. It was clear to us from the very start that we needed an expert with a wide range of experience in various compound semiconductor materials and devices," said Mark Telford, Co-CEO and Publishing Director, Juno Publishing and Media Solutions Ltd.
"Semiconductor Today is one of the most famous magazines in the semiconductor industry and academic field, with a high reputation," said Haiyong. "With the rapid development of the semiconductor industry in China and other countries in North-East Asia, the importance of the semiconductor business in this area has been highly recognized. I am very happy Semiconductor Today has launched its Chinese version for Chinese readers in North-East Asia. And as an academic, I am very happy to have the opportunity to help Chinese readers in the semiconductor field to keep in touch with the latest news and state-of-the-art technologies that Semiconductor Today ASIA shares," he adds.
"We are very pleased to welcome Haiyong as the newest member of the Semiconductor Today team. High-quality editorial content is the foundation on which we have built our success, and so Haiyong's appointment fits perfectly with our business philosophy," said Darren Cummings, Co-CEO and Executive Chairman of Juno Publishing and Media Solutions Ltd. "Our plan over the next few months is to expand the content of Semiconductor Today and increase its frequency of publication. We are also planning to introduce further publications and services for the semiconductor industry in the near future."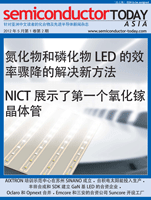 Published five times a year, Semiconductor Today ASIA is an online Chinese-language magazine focused on the research and manufacturing of materials and devices based on both compound semiconductors (such as GaAs, InP, GaN, CIGS, CdTe, etc.) and advanced silicon (including SiC, SiGe, strained silicon etc.). It is distributed by e-mail free to a circulation comprised of more than 17,900 individual scientists, engineers and executives located in North-East Asia.
Semiconductor Today ASIA's latest issue is now available.
Visit: www.semiconductor-today.com