25 May 2012
Osram expands with new LED assembly plant in China
Germany's Osram AG has signed a contract with the Wuxi New District Administrative Committee to build an LED assembly plant in Wuxi (near Shanghai) the province of Jiangsu. LED chips will be packaged at the new back-end facility starting in late 2013; with Osram's front-end plants in Regensburg, Germany and Penang, Malaysia exclusively continuing to make the LED chips.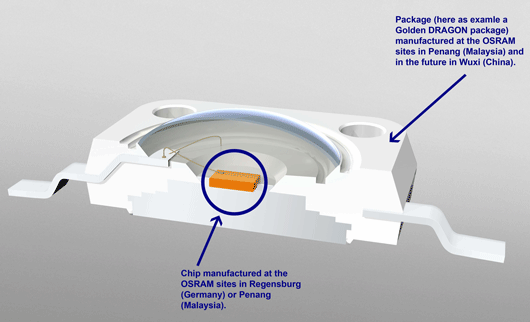 "The new assembly plant will improve our access to the world's largest single market in the lighting industry," says Aldo Kamper, CEO of the Osram Opto Semiconductors GmbH business unit in Regensburg. "Osram's new plant in Wuxi will definitely enhance the development of the LED industry in both Wuxi Municipality and Jiangsu Province," comments Lixin Huang, a member of the Standing Committee of Jiangsu Provincial CPC Committee and secretary of Wuxi Municipal CPC Committee in China.
Osram says that, in the face of sharply rising demand for LED-based products, it opted to set up the plant in Wuxi to augment the capacity of its chip plants in Regensburg and Penang. When fully operational, the plant will be able to accommodate up to 1600 staff.
The new plant in Wuxi will augment the Penang plant's back-end LED assembly capacity by manufacturing general, automotive and industrial lighting products for key segments of the Chinese market. The firm reckons that the added back-end LED capacity should enable it to capitalize on China's fast-growing market.
Market analysts at IMS Research have predicted strong growth for optoelectronic semiconductors such as LED components and laser diodes, with average growth rates of about 5% worldwide in the coming years. The fastest growth is expected to come in China, with an average growth rate of 10%.
However, this potential extends beyond components. According to a market survey conducted by McKinsey, the rapidly growing Asian region already accounts for about 35% of the existing global general lighting market, and should rise to 45% by 2020. Forecasts predict that the Chinese market alone, worth over €8bn now, will more than double by 2020.
In fiscal 2011, Osram generated about one fifth of its revenue in the Asia-Pacific region, where it employs more than 16,000 people. This workforce is larger than that of any other region, and roughly half are employed in China. Osram notes that it has marketed products in the region for about 80 years, covering the entire value chain from front-end to back-end.
Visit: www.osram-os.com