11 May 2012
Optogan opens Italian lighting sales office via distributor LEDisOne
European LED chip and luminaire maker Optogan has opened an LED lamp and luminaire sales office by signing a distribution agreement with LEDisOne srl of Varese, Italy, which operates in Northern Italy and the Tessin region of Switzerland.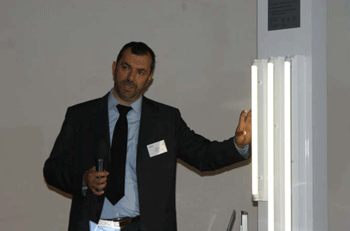 At the Grand Opening in Varese, close to Milan, LEDisOne hosted more than 100 official guests, politicians, architects, and representatives of industry and universities. Founded in 2011, the newly certified distributor specializes in LED lighting and has a broad background in the semiconductor industry.
Picture: Gabriele Demaria, Managing Director LEDisOne showing Optogan products at the Grand Opening in Varese, Italy.
Founded in Helsinki, Finland in 2004 by Russian entrepreneurs and scientists from Ioffe Institute in St Petersburg, Optogan is a vertically integrated develoer and manufacturer of HB-LEDs for applications including solid-state lighting. In addition to having an R&D facility in Helsinki, since founding Optogan GmbH in Germany in 2005 it has established epitaxy and chip R&D plus a pilot line in Dortmund and its Fab1 chip fabrication plant in Landshut. Also, after founding CJSC Optogan in Russia in 2009, in 2010 it acquired an industrial facility in St Petersburg, where it has established LED component and luminaire production lines.
Optogan says that its expansion to Italy has been a key target, since the country is considered to be the home market for architectural lighting. "Italy has always been one of the front runners in solid-state lighting and is traditionally first in adopting new technologies and trends of the indoor lighting industry," says Ove Sörensen, senior sales director & business development at Optogan GmbH. "The potential for LED-based lamps and luminaires in this country is on such a high level that we cannot afford to miss this strategic market," he adds.
Besides the architectural lighting and retrofit business LEDisOne will also focus on sportsfield and flood lighting. Regional sports clubs and associations have already expressed their interest, says Optogan.
"So far our customers are mainly designers, architects, industrialists and public authorities, but our long-term goal is to collaborate with the government since there are development projects concerning an energy-efficient re-design of cities," says LEDisOne's managing director Gabriele Demaria. "Within the next year we plan to set up the company structure in terms of additional locations and manpower."
LEDisOne will cover the Northern Italian region and will open a new sales office in Lugano, Swizerland in June.
Visit: www.optogan.com
Visit: www.ledisone.it