21 May 2012
OneChip to sample PIC-based 40GBASE-LR4 and 100GBASE-LR4 receiver chips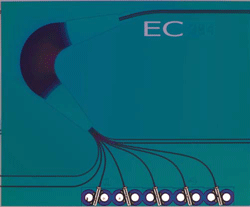 At the IEEE Photonics Society Optical Interconnects Conference (OIC 2012) in Santa Fe, NM, USA, OneChip Photonics Inc of Ottawa, Canada, which develops and manufactures optical chips and transceivers based on monolithic photonic integrated circuits (PICs) fabricated in indium phosphide (InP) for access networks and other mass-market broadband applications, has announced that in second-half 2012 it will make available engineering samples of its PIC-based 40GBASE-LR4 and 100GBASE-LR4 receiver chips for partner testing.
Picture: OneChip's 100GBASE-LR4 integrated receiver.
The firm claims that the PIC-based receiver chips - which monolithically integrate, on a single indium phosphide (InP)-based chip, all of the active and passive optical components required to receive 40GBASE-LR4 or 100GBASE-LR4 signals - will enable transceiver manufacturers to address wide reach range (up to 10km), long-wavelength (around 1300nm) data communications applications, including high-density interfaces for next-generation data-center interconnects (NG DCI), more cost-effectively and efficiently than ever before.
"OneChip's breakthrough PIC technology has proven to be a valuable solution for the very cost-sensitive, high-volume fiber-to-the-home [FTTH] market, and we now are extending that technology to the data communications market," says founder & chief technology officer Dr Valery Tolstikhin. "By offering fully integrated receiver and transmitter PICs, we are demonstrating that InP-based wavelength division multiplexing (WDM) components can meet very aggressive cost and footprint points in the data communications market, overall, and in NG DCI applications, in particular," he adds.
"The industry is in the midst of switching gears from raw device speed to photonic integration, as optical interconnect speeds reach 40Gbps, 100Gbps and beyond," comments Karen Liu, principal analyst for Components at market research firm Ovum. "PIC chips like OneChip's offering will be critical to enable the required cost and density for transceiver and system solutions addressing exploding communications needs in a wide variety of applications," she adds.
OneChip also expects to make engineering samples of its 40GBASE-LR4 transmitter optical components and 100GBASE-LR4 single-chip transmitter PICs available near the end of this year, after the release of its PIC-based receiver chips. The 40GBASE-LR4 transmitter components will include spot-size converted distributed feedback (DFB) directly modulated lasers at 1271, 1291, 1311 and 1331nm wavelengths, with integrated monitor photodiodes. The 100GBASE-LR4 transmitter PICs will integrate four DFB-EAM (electro-absorption modulator) externally modulated lasers operating in the 1300nm window on 800GHz spacing at 25Gbps each, monitor diodes, a WDM combiner, and spot-size converter on a single chip.
OneChip claims that its PIC-based 40GBASE-LR4 and 100GBASE-LR4 integrated receiver chips will cost significantly less to package and manufacture than competing hybrid integration and silicon photonics solutions, and the chips will have the smallest footprint on the market. The firm anticipates that the PICs will enable LR4 transceivers cost effective enough to be used at short- and intermediate-range applications in the data center.
OneChip's PICs are designed and manufactured using its Multi-Guide Vertical Integration (MGVI) platform - the firm's unique, regrowth-free photonic integration technology - resulting in lower costs and higher yields than other implementation technologies, it is claimed.
Visit: www.onechipphotonics.com