23 May 2012
Kyma demos 10" AlN-on-sapphire template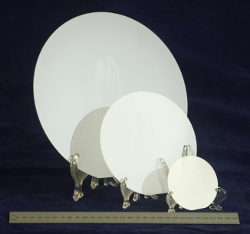 Kyma Technologies Inc of Raleigh, NC, USA, which provides crystalline gallium nitride (GaN), aluminium nitride (AlN) and aluminium gallium nitride (AlGaN) materials and related products and services, says that it has demonstrated a 10-inch diameter AlN-on-sapphire template.
Picture: Kyma's new 10" diameter PVDNC AlN on sapphire template, along with smaller-diameter (6" and 4") products.
Kyma's AlN templates are manufactured using its patented plasma vapor deposition of nanocolumns (PVDNC) technology, which provides GaN LED makers with throughput, cost and performance benefits, the firm claims, adding that the PVDNC AlN templates are chosen by manufacturers of blue, green and white LEDs as a replacement for bare and patterned sapphire substrates.
The 250mm (10-inch) sapphire substrate was provided by Monocrystal Inc of Stavropol, Russia, which provides sapphire products and metallization pastes to the semiconductor, optical, and photovoltaic industries.
Until recently, the wafer diameter standard for GaN LED wafer manufacturing has been 50mm (2"). Recently, sapphire manufacturers have made much progress in increasing the size of sapphire boules from which ever larger sapphire substrates can be sliced, with sapphire diameter demonstrations up to 12" being achieved by certain sapphire providers, says Kyma. This has enabled some of the major GaN LED makers to begin transitioning to larger-diameter sapphire - up to 150mm (6-inch) in some cases - to enhance manufacturing throughput and to achieve better economies of scale. While 10-inch sapphire based AlN templates are currently simply a demonstration, Kyma believes that the LED community will begin looking beyond 150mm (6-inch) diameter in the next few years.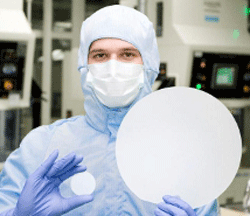 In February 2011 Kyma announced the commissioning of its high-volume PVDNC AlN template manufacturing tool and the demonstration of the world's first 300mm (12-inch) diameter AlN-on-silicon template suitable for high-quality gallium nitride (GaN) growth. Last November, Kyma announced customer qualification of products manufactured on that tool.
Picture: Monocrystal's 10" sapphire substrate vs 2" sapphire substrate. Source: Monocrystal.
"Over the past year we have demonstrated several firsts in AlN template manufacturing, in each case leveraging Kyma's new volume-manufacturing tool, including customer qualification of our 2" sapphire-based product and large-diameter demonstrations on both silicon and sapphire," says chief technology officer Ed Preble. "Together these results confirm the diameter scalability of the PVDNC AlN process as well as its robustness and flexibility for growth on different starting substrates," he adds.
Tags: Kyma AlN-on-sapphire template GaN LEDs Monocrystal Sapphire substrates
Visit: www.kymatech.com
Visit: www.monocrystal.com