8 May 2012
Infineon launches direct-drive 1200V SiC JFETs, boosting solar inverters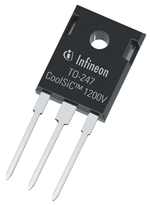 In Hall 12, booth 404 at the PCIM Europe 2012 trade show in Nuremberg, Germany (8-10 May), power semiconductor manufacturer Infineon Technologies has launched its new CoolSiC 1200V silicon carbide (SiC) JFET family which, the firm says, takes advantage of more than a decade of experience in SiC technology development as well as high-volume production.
Picture: Infineon's TO247-packaged CoolSiC 1200V SiC JFET.
Aimed at markets requiring highly efficient power management, CoolSiC technology is designed specifically to achieve higher performance in solar inverters, says Jan-Willem Reynaerts, product segment head of High Voltage Power Conversion at Infineon Technologies.
Compared with silicon-based insulated-gate bipolar transistors (IGBTs), the new CoolSiC 1200V SiC JFETs have much lower switching losses, allowing higher switching frequencies to be used without sacrificing overall system efficiency. This enables the use of much smaller passive components, resulting in smaller overall solution size, lower weight and reduced system cost, says the firm. Alternatively, a higher-output-power solution can be realized within the same inverter housing.
To ensure that the normally-on JFET technology is safe and easy to use, Infineon has also developed a concept called Direct Drive Technology, in which the JFET is combined with an external low-voltage MOSFET and a dedicated driver IC that ensures safe system start-up conditions as well as fast and controlled switching.
The CoolSiC JFET features a monolithically integrated body diode that has a switching performance comparable to an external SiC Schottky barrier diode. This combination offers optimum efficiency, reliability, safety and ease of use, claims the firm.
Samples of the CoolSiC JFET products as well as the driver ICs are available in second-quarter 2012. First OEM ramp-ups are expected in first-half 2013. Pricing for the IJW120R100T1 (100 milli-Ohms) will be $24.90 (€18.44) each (in 1000-piece quantity).
Tags: Infineon SiC JFETs Solar inverters
Visit: www.infineon.com/coolsic