3 May 2012
GaN Systems and APEI to co-develop high-temperature, high-performance package for GaN transistors and diodes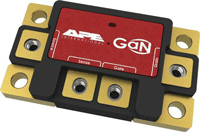 GaN Systems Inc of Ottawa, Ontario, Canada, which is a fabless provider of gallium nitride (GaN)-based power switching semiconductors for power conversion and control applications, and Arkansas Power Electronics International Inc (APEI), which develops technology for power electronics systems, electronic motor drives and power electronics packaging, are to collaborate on the development of a high-temperature, high-performance package optimized for GaN transistors and diodes.
The co-development is funded in part by the Government of Canada through the foundation Sustainable Development Technology Canada (SDTC), which operates a $590m fund to support the development and demonstration of clean technologies (solutions addressing issues of clean air, climate change, clean water and clean soil). The goal is to demonstrate the efficiency, performance, and reliability of GaN power devices in a power converter for hybrid and electric vehicles (HEVs and EVs).
"As gallium nitride is just beginning to gain acceptance for the next generation of power semiconductors, prospective users are keen to see the technology validated through real system design implementations," says GaN Systems' CEO Girvan Patterson. "Advanced packaging is the key that unlocks the vast potential of GaN in high-power applications, so we are delighted to be collaborating with a world leader on a package and system design that will maximize the benefits of this exciting technology," he adds. "This important partnership also marks a powerful endorsement of our patented, island-based topology, validating our unique design approach."
GaN Systems says that gallium nitride offers dramatic efficiency advantages over conventional silicon devices when used in power conversion systems. "For some time APEI has been looking for an opportunity to get more heavily involved in developing products for newly emerging GaN device technology," says APEI's president & CEO Dr Alexander Lostetter. The partnership with GaN Systems will result in new power module and converter technologies for an industry that is demanding increased energy efficiency, higher performance and reliability, and smaller size and weight, he adds.
"SDTC works to ensure that different partners - from innovators to end-users - are involved in the development and demonstration of new technologies," says SDTC's president & CEO Vicky Sharpe. "GaN Systems and APEI are showing the clear benefits of this approach. By working together, they will make sure that users' needs are reflected in the product's development early enough to pave a smooth path to market."
Tags: GaN Systems APEI GaN transistors GaN diodes
Visit: www.gansystems.com
Visit: www.apei.net
Visit: www.sdtc.ca