3 May 2012
Cree launches first LED module designed to replace ceramic metal halide lighting
LED chip, lamp and lighting fixture maker Cree Inc of Durham, NC, USA has expanded its 2000 and 3000 lumen LMH2 module family (launched in early April) by offering lighting manufacturers a new dome lens and universal driver with dimming options.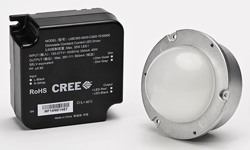 The new lens enables an increase of up to 5% in system efficacy compared with the standard lens and delivers what is claimed to be an unrivalled hemispheric light pattern. The LMH2 modules enable true 50W and 70W ceramic metal halide LED replacements and support an expansive range of lighting applications, including downlights, wall sconces, pendants, flush-mounted, spot, track and ceiling fan lights.
The LMH2 module is also now available with a 120-277V universal driver with 0/1-10V dimming capability. The modular LMH2 LED offers a range of lumen, color temperature, driver and beam-shape options in one common form factor, enabling lighting manufacturers to quickly customize their applications and speed time-to-market, it is claimed.
Optimized with the new hemispheric beam shape of the dome lens, the drop-in-ready LMH2 delivers up to 80 lumens-per-watt system efficacy combined with 90+ CRI (color rendering index). Featuring Cree TrueWhite Technology, the 2000 lumen and 3000 lumen modules deliver more than 95lm/W efficacy at the light source, and are available in color temperatures of 2700K, 3000K, 3500K and 4000K.
Designed for 50,000 hours of operation and dimmable to 5%, the LMH2 light source is also UL-recognized and complies with multiple international regulatory and safety standards. Luminaire makers seeking ENERGY STAR qualification will have access to specification and performance data, including LM-80 reports, which can speed regulatory approvals.
"Lighting manufacturers no longer need to settle for inferior quality and performance offered with ceramic metal halide lighting," says Mike Watson, Cree senior director marketing, LED components. "Cree's LMH2 family lets designers quickly and easily convert their traditional lighting portfolio to LEDs and simultaneously deliver their end-users improved color quality, efficacy and performance," he claims.
Cree is exhibiting the new LMH2 module family options in booth #130 at the Lightfair International 2012 trade fair in Las Vegas (9-11 May). Sample and production quantities are available with standard lead times from both Cree and Cree's distributors.
Tags: Cree LEDs LED module
Visit: www.cree.com/products/modules_lmh2.asp