2 May 2012
Cree launches 50A SiC power devices, including first 1700V MOSFET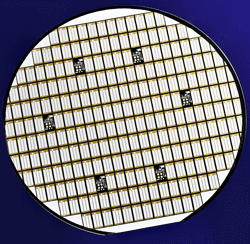 Cree Inc of Durham, NC, USA has announced a new family of 50A silicon carbide (SiC) devices, including the industry's first 1700V Z-FET SiC MOSFET. The firm reckons that the new 50A SiC devices, which also include a 1200V Z-FET SiC MOSFET and three Z-Rec SiC Schottky diodes, will enable a new generation of power systems with record-setting energy efficiency and lower cost of ownership than with conventional technologies.
The new devices, available in die form, are designed for high-power modules for applications such as solar power inverters, uninterruptible power supply (UPS) equipment and motor drives. Cree says that, using the 50A SiC devices, power electronics engineers can set new standards for system cost of ownership through reduced size, lower-cost bill of materials (BOM), and improved efficiency.
Cengiz Balkas, VP & general manager, Cree power and RF, attributes the development to Cree's unique expertise spanning SiC materials technology, wafer processing and device design. "These larger die extend the benefits realized with our 20A SiC MOSFETs to power applications up to 500kW, making it possible to replace less capable conventional silicon IGBTs [insulated-gate bipolar transistors] in high-power, high-voltage applications," he adds.
Cree says that the higher-rated SiC devices continue its history of SiC technology firsts, including the industry's first 1200V SiC MOSFET and the first production 1200V and 1700V SiC Schottky diodes.
The 50A SiC device series includes a 40 mΩ 1700V MOSFET, a 25mΩ 1200V MOSFET and 50A/1700V, 50A/1200V and 50A 650V Schottky diodes. Samples of all these devices are available immediately, with production volumes targeted for fall 2012. Preliminary datasheets are available upon request for samples in die form.
Tags: Cree SiC SiC MOSFET
Visit: www.cree.com/power