22 June 2012
New Focus launches first tunable, direct-diode blue laser operating at 461nm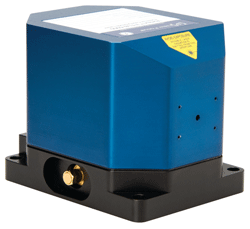 Photonics product maker New Focus (a division of Newport Corp of Irvine, CA, USA) has launched the Vortex Plus Blue TLB-6802 precision series, single-mode, finely tunable laser, which is claimed to be the first precision tunable blue laser operating at 461nm (the critical wavelength for next-generation atomic clocks currently being built by US National Labs and elsewhere). The blue Vortex Plus replaces complex resonant second-harmonic generation (SHG) systems, suiting research applications such as molecular and optical physics and other areas that require blue wavelength tunable lasers.
The Vortex Plus laser head delivers a narrower linewidth than prior versions. The new feature combines with the same reliable stability (1% over 1 hour) and true continuous-wave (cw), mode-hop-free operation offered by New Focus' legacy Vortex II product. For added flexibility, an industry-standard SMA port for direct-to-diode, high-speed modulation (useful for precise wavelength locking) is also included.
The compatible TLB-6700-LN controller is available as part of the Vortex Plus system or can be ordered separately. It features low-noise analog circuits that allow the user to precisely set critical operating parameters such as diode temperature and current. Designed to automatically recognize the laser head and to designate the ideal temperature and maximum current limit, the controller provides intuitive, easy setup for optimum performance results, says the firm. The TLB-6700-LN controller can be operated both manually or remotely via the USB interface.
Tags: Blue laser
Visit: www.newport.com/VortexPlus