13 June 2012
Emcore launches commercial rooftop CPV system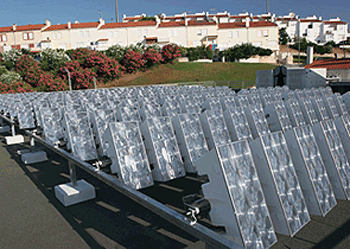 Emcore Corp of Albuquerque, NM, USA, which makes components, subsystems and systems for the fiber-optic and solar power markets, has announced that its Soliant 1000 commercial rooftop concentrator photovoltaic (CPV) system is now available for pre-production orders. The system is being introduced and demonstrated in Europe for the first time in hall A4, booth 242 at the Intersolar Europe 2012 trade show in Munich, Germany (13-15 June).
The Soliant 1000 is designed to generate solar power for commercial buildings with high energy demands. It is claimed that the system offers one of the highest energy production densities of any available solar system, making it cost effective for commercial rooftops in regions with high direct normal irradiance (DNI). The Soliant 1000 generates more than 500 watts peak per panel (18 watts peak per square foot), requiring about 28% less rooftop area than polycrystalline and about 38% less rooftop area than thin-film solar panels, it is reckoned, to generate 1000 megawatt hours (MWh) per year of energy output. The system combines Emcore's multi-junction solar cell technology with a patent-pending TipTilt Tracking system that tracks the sun's movement all day to maximize critical peak-hour energy output when utility energy is most expensive.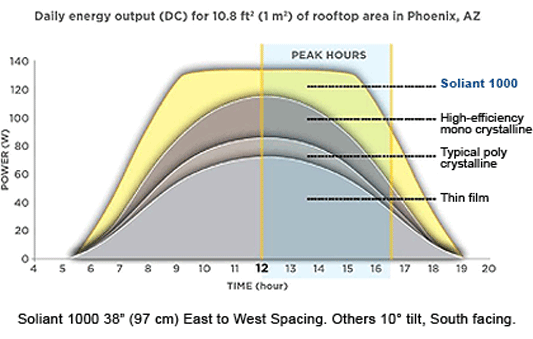 The Soliant 1000 panels are low profile, lightweight, non-penetrating and come fully assembled and ready to drop-in place. For developers, integrators and installers, more projects can be completed in less time with lower labor and system costs, it is claimed. Commercial building owners can benefit from the lowest levelized cost of energy (LCOE, the final cost to produce a kilowatt-hour of solar power) along with a system that is designed for over 25 years of life, the firm adds.
"This announcement opens the door for Emcore to enter the estimated $2bn annual rooftop solar market," says chief operating officer Christopher Larocca. "Production and deliveries are scheduled to commence later this year, and we look forward to addressing this new segment."
Tags: Emcore CPV Multi-junction solar cell
Visit: http://emcore.com/solar_photovoltaics/commercial_rooftop_cpv