20 June 2012
Ascent Solar accepts order for EnerPlex charger for Apple's iPhone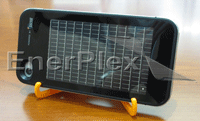 Ascent Solar Technologies Inc of Thornton, CO, USA, which manufactures thin-film photovoltaic modules based on copper indium gallium diselenide (CIGS) using flexible substrate materials, has received a purchase order for 50,000 units of its EnerPlex solar charger for the Apple iPhone.
The EnerPlex charger was launched in early June and displayed at Ascent's annual shareholder's meeting. It was first publicly displayed to the industry at the Intersolar Europe 2012 trade show in Munich, Germany last week (13-15 June). The product takes advantage of Ascent's ultra-light, thin and flexible solar panels and enables iPhone users to provide supplementary charging of their iPhones using sunlight.
The order is from Ascent's exclusive distributor in Asia, TFG Radiant, which has advance orders from its channel partners for retail distribution throughout the Asia region. Ascent plans to fulfill the channel orders, supporting the early August retail launch of EnerPlex chargers in Asia.
"We are receiving strong interest from potential distributors worldwide," says Ascent's president & CEO Victor Lee. "We plan to work closely with our channel partners in Asia to support the retail launch of EnerPlex while continuing to pursue expansion opportunities for this revolutionary line of products around the world," he adds. "With this launch of our first EnerPlex product, with many more to come, we are taking the first step toward driving a new revenue stream with significant growth opportunity."
The charger is the first product under Ascent's new EnerPlex line of consumer products. The firm is also developing future products for other leading smart-phones and consumer devices, such as the Samsung Galaxy S III.
Ascent launches solar-powered charger for smart phones, starting with Apple iPhone
Tags: Ascent Solar CIGS
Visit: www.ascentsolar.com/enerplex