7 June 2012
AQT Solar unveils prototype 60W CZTS PV module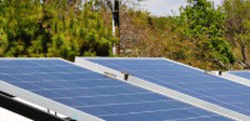 AQT Solar Inc of Sunnyvale, CA, USA, which makes copper indium gallium diselenide (CIGS) thin-film photovoltaic (PV) solar cells, says that, in conjunction with its module-making partners, it has developed a prototype copper zinc tin sulfide (CZTS) solar module capable of 60W power output.
The firm reached the prototype stage at what it reckons is an unprecedented pace by leveraging its unique, material-agnostic production platform, validating that its commercial platform can support a diverse range of materials required to satisfy the demand for low-cost, high-efficiency cells. AQT has had CZTS modules 'under-sun' testing since early this year.
AQT says that studies to-date demonstrate that, in addition to very low manufacturing costs, its CZTS solar cells have the potential to deliver a wide range of benefits to solar module makers including: superior energy harvesting (compared to crystalline silicon); minimal mechanical yield losses during module assembly (due to superior durability of glass substrates); adaptable and scalable modules made using proven conventional materials and equipment; and availability in standard power sizes.
Tags: AQT Solar CIGS PV cells
Visit: www.aqtsolar.com