19 July 2012
Veeco hosts Taiwanese LED makers at MOCVD User Meeting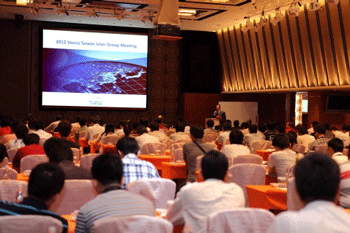 Epitaxial deposition and process equipment maker Veeco Instruments Inc of Plainview, NY, USA says that more than 150 LED manufacturing customers recently attended its metal-organic chemical vapor deposition (MOCVD) User Meeting in Tainan, Taiwan. Attendees included representatives from most of Taiwan's top LED makers such as Epistar Corp, FOREPI, Genesis Photonics Inc (GPI), Huga Optotech Inc, Tekcore Co Ltd, Epileds Co Ltd, and Arima Optoelectronics Corp.
Picture: Taiwan's LED makers at Veeco's MOCVD User Meeting in Tainan.
During his presentation, invited speaker Dr Charles Li, GPI's vice president of R&D, spoke about 'The Trend of LED Chips for Lighting'. He addressed key drivers that will help to commercialize LEDs for general lighting, such as cost reduction, which can be achieved by developing better high-current LED chip technology.
"Our MOCVD User Meeting provides an excellent forum where we focus on our customers' manufacturing challenges and provide solutions to maximize their productivity and yield, while reducing costs - all critical factors to their success," says Tim Liu, Veeco's VP & Greater China country manager. "Veeco recently introduced a new suite of MOCVD systems based on its industry-leading TurboDisc technology to accelerate worldwide adoption of LED lighting by reducing manufacturing costs," he adds.
Other topics presented at the meeting included 'Driving Down LED Manufacturing Costs with TurboDisc MOCVD Products' presented by Jia Lee, Ph.D., Veeco's senior director of marketing & business development; and an update on 'GaN on Silicon LED Manufacturing' by Kenny Sun, Ph.D., Veeco's director, Taiwan Technology Center (TTC), located in Hsinchu Park. Dr Sun also presented the mission of Veeco's TTC and technical projects since its establishment a year ago.
Veeco's TTC is equipped to conduct process demonstrations, arrange rapid start programs to transfer best known methods, provide early access to evaluate system upgrades, and support joint technology development programs. It is equipped with the firm's MOCVD systems, including a multi-chamber TurboDisc MaxBright MOCVD system.
Visit: www.veeco.com