20 July 2012
Tiger Optics launches compact trace gas analyzer for 200ppt contaminant detection in UHP gas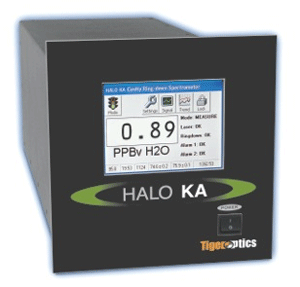 At the Semicon West 2012 trade show in San Francisco, CA, USA (10-12 July), laser-based trace gas analyzer manufacturer Tiger Optics LLC of Warrington, PA, USA unveiled the HALO-KA, which can detect traces of contaminants to 200 part-per-trillion levels in an ultra-high-purity (UHP) gas stream.
The HALO-KA has what is claimed to be the smallest footprint of any high-purity analyzer on the market, providing cost savings. With a low detection limit of 500ppt H2O in nitrogen (200ppt in helium), two of the new instruments can fit in a 19-inch rack. Moreover, its patented continuous-wave cavity ring-down spectroscopy (CW CRDS) principle of operation requires no moving parts or calibration, saving on down-time, labor, and consumables, the firm adds.
The HALO-KA is the latest addition to a platform that debuted in 2006 as the HALO, a 'mini' device measuring moisture in a range from 2ppb to 20ppm, offering the speed, specificity and reliability of the original Tiger tools but at about half of the price and a quarter of the size. The original HALO was conceived by Dr Farhang Shadman, director of the NSF/SRC Engineering Research Center for Environmentally Benign Semiconductor Manufacturing at the University of Arizona.
The HALO+ analyzer, introduced at Semicon West 2007, provided detection limits down to 400ppt for fields as diverse as gas manufacturing, semiconductor fabrication, and national metrology institutes. When a user requested an analyzer with an extended upper detection limit, Tiger Optics responded in 2010 with the HALO-500-H2O, providing the widest detection range of any Tiger product.
"Our newest HALO is unique in its ability, as an all-in-one device, to monitor extremely low levels of contamination in a UHP gas stream," claims founder & chief executive Lisa Bergson. "Not only can the HALO-KA monitor moisture, but we also have systems available to monitor a wide variety of analytes in both inert and corrosive gases," she adds.
Tags: Tiger Optics Gas-analyzer
Visit: www.tigeroptics.com