20 July 2012
Lake Shore launches cryogen-free probe station for new material research and electronic device development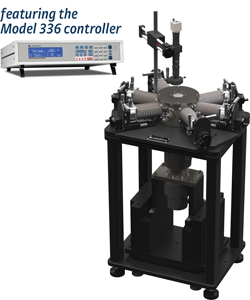 Lake Shore Cryotronics Inc of Westerville OH, USA, which makes scientific sensors, instruments and systems for precise measurement and control, has launched the Model CRX-6.5K, a general-purpose cryogen-free probe station that is claimed to be both cost effective and convenient to use. The new tool is suitable for engineers and scientists performing new material research and electronic device development who want to characterize material or test device behavior before undertaking full device development.
The firm says that, with the Model CRX-6.5K, engineering and test laboratories can now enjoy the same stable, precise temperature control and accurate sample measurement technology that low-temperature physicists have had access to for years.
Whether testing photonic and electro-optical materials and devices, organic and molecular electronics, microwave materials and test devices, or nanoscale electronics, quantum devices and novel semiconductors, it offers reliable, convenient, and non-destructive testing in a stable environment that eliminates unwanted thermal variability, Lake Shore claims.
The probe station suits researchers conducting liquid-nitrogen-based measurements, or needing a convenient environment capable of accurately controlling temperatures from under 10K to 350K (-263°C to 77°C), with an option for up to 675K (400°C). Safer, easier, and more precise than using liquid cryogen dunk tanks, the Model CRX-6.5K is also more flexible than optical cryostats and accommodates larger samples, the firm adds. A self-contained closed-cycle refrigerator (CCR) enables safe and convenient cryogen-free operation, so no supervision is required during cool down.
The system also offers flexible, expandable probing, with up to six independent probe arms and a variety of probe tip and sample holder options to accommodate a broad range of device types and measurement needs. Special design features such as cooled probe arms with calibrated temperature sensors allow extra confidence in the actual temperatures of samples. Like all Lake Shore products, the Model CRX-6.5K comes with a standard 3-year warranty.
Tags: Lake Shore Probe station
Visit: www.lakeshore.com