24 July 2012
Aixtron launches AIX G5+ 5x200mm GaN-on-Si package for G5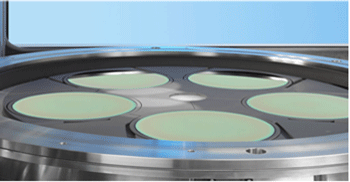 With its latest product, AIX G5+, deposition equipment maker Aixtron SE of Herzogenrath, Germany has introduced a 5x200mm GaN-on-Si (gallium nitride on silicon) technology package for its AIX G5 Planetary Reactor metal-organic chemical vapor deposition (MOCVD) platform.
Following a customer-focused development program, the technology was designed and created in Aixtron's R&D laboratory and consists of specially designed reactor hardware and process capabilities. It is now available as a part of the AIX G5 product family, and any existing G5 system can be upgraded to this latest version. Details of G5+ have already been disclosed to some of Aixtron's key customers.
"GaN-on-Si is the technology of choice for the emerging power electronics market segment, and also a very promising candidate for future high-performance and low-cost high-brightness LED manufacturing," says VP marketing Dr Rainer Beccard. "The wafer size and material plays a crucial role when it comes to cost-effective manufacturing processes, and thus the transition to 200mm standard silicon wafers is a logical next step on the manufacturing roadmaps, as it offers unique economies of scale," he adds.
"Being convinced that uniformity and yield are the key success criteria in 200mm GaN-on-Si processes, Aixtron conducted a dedicated R&D program," says Dr Frank Wischmeyer, VP & program manager Power Electronics at Aixtron. "We started the development process by conducting an extensive simulation program, which enabled us to design fundamentally new hardware components that provide unique process performance in our 5x200mm processes, while still being compatible with the well-proven AIX G5 reactor platform," he adds. The results are extremely stable processes, providing much better uniformity of material properties and enabling higher device yield than any other MOCVD platform, says Aixtron, whilst offering a reactor capacity of 5x200mm.
The firm says that initial feedback from customers confirms the success of the technical development. Many have noted in particular that the fully rotationally symmetrical uniformity pattern on all five 200mm wafers, the use of standard thickness silicon substrates and the controlled wafer bow behavior is what they require for silicon-style manufacturing, Aixtron adds. "This uniformity pattern has been an inherent feature of Aixtron's Planetary Reactor technology, which we can now successfully obtain on 200mm GaN-on-Si wafers," concludes Wischmeyer.
Visit: www.aixtron.com