17 December 2012
Toshiba to start selling GaN-on-Si packaged white LEDs
Tokyo-based semiconductor manufacturer Toshiba Corp says that this month it will begin mass production of white light-emitting diode (LED) packages that offer a cost-competitive alternative to existing LED packages for general-purpose and industrial LED lighting.
LED chip fabrication is typically done on 2- to 4-inch wafers based on costly sapphire substrates. But, since January, Toshiba has collaborated on white LED chip development with Bridgelux Inc of Livermore, CA, USA (which makes LED solid-state light sources specifically for the lighting industry). In May, Toshiba said that, through combining its 200mm silicon wafer processing and manufacturing technology with Bridgelux's crystal growth and LED chip structure, a prototype gallium nitride on silicon (GaN-on-Si) LED chip had been developed. The firms have hence developed a process for manufacturing GaN LEDs on 200mm silicon wafers, which Toshiba has brought to a new production line at Kaga Toshiba Electronics Corp (a discrete products manufacturing facility in northern Japan).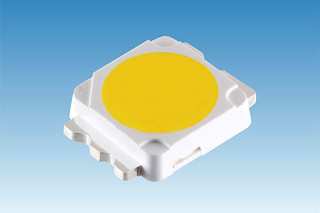 Picture: Toshiba's new 1-Watt GaN-on-Si white LED.
Toshiba says that deployment of GaN-on-Si technology for LED chip production has allowed it to replace sapphire substrates and to produce chips on much more cost-competitive silicon substrates. Mass production of packages using the new line's output starts this month. The new 6.4mm x 5.0mm x 1.35mm 1-Watt TL1F1 series of GaN-on-Si LEDs generate a light flux of 112lm (at a drive current of 350mA). Planned production capability is 10 million units per month. 
Toshiba says that the low power consumption and long life of white LED lighting is winning widespread adoption in applications including general-purpose lighting and TV backlighting. The global market was 700bn yen (US$8.5bn) in 2011 and is expected to almost double to 1250bn yen ($15.2bn) in 2016. Going forward, Toshiba targets product development and global sales, aiming to secure a 10% share of this market in 2016.
Toshiba to start mass production of GaN-on-Si white LEDs in October

Toshiba invests in Bridgelux to boost GaN-on-Si LED lighting
Tags: Toshiba Bridgelux GaN-on-Si
Visit: www.toshiba-components.com