6 December 2012
Aixtron receives order from Dynax Semiconductor for first MOCVD system in China dedicated to GaN electronic device production
Deposition equipment maker Aixtron SE of Herzogenrath, Germany has received its first purchase order for a Close Coupled Showerhead (CCS) CRIUS MOCVD system from Dynax Semiconductor Inc of China. Aixtron says it will be the first system in China dedicated to the manufacturing of gallium nitride (GaN)-based electronic devices. The system will be used to grow GaN and related nitride semiconductor epitaxial layers on silicon carbide (SiC) and silicon (Si) substrates for microwave and power devices.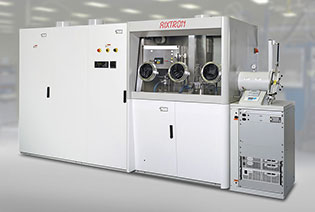 Picture: Aixtron's CCS CRIUS MOCVD system.
Founded in 2011, Dynax was the first commercial company in China to be focused on design and manufacturing of GaN electronic devices. The company is based in Kunshan, Jiangsu province in east China.
"This is an important step for us", said Dr. NaiQian Zhang, president and CEO of Dynax Semiconductors. "High power and high efficiency GaN electronic devices are the key components for next generation power management and data communications. This disruptive technology will help us achieve a sustainable society. The Aixtron reactor is a proven system for this application".
Dr. Frank Wischmeyer, vice president and program manager Power Electronics at Aixtron, added: "The Dynax technical team already has extensive experience with AIXTRON's CCS technology. We are looking forward to supporting the customer with our expertise on accelerating the GaN power device market introduction in China."
Visit: www.aixtron.com