6 August 2012
Oclaro's revenue almost back to pre-flood levels
For its fiscal fourth-quarter 2012 (to end-June), optical communications and laser component, module and subsystem maker Oclaro Inc of San Jose, CA, USA has reported a second consecutive quarter of growth as it continues to recover from October's flooding at Thailand-based primary contract manufacturer Fabrinet Co Ltd (which made 30% of Oclaro's total finished goods). After the low of $86.5m in the December 2011 quarter, revenue has grown by 18% from $88.7m last quarter to $104.4m (although this is still down 4.4% on $109.2m a year ago).
Production capability is back to pre-flood levels. But revenue has not necessarily returned fully because customers had to go to alternate sources and are hence still giving some business to them, notes chairman & CEO Alain Couder. However, over time, Oclaro expects to recover that revenue.
After dipping to $12.2m in the December quarter due to high-power laser production being flood hit and vertical-cavity surface-emitting laser (VCSEL) revenue for consumer applications being seasonally down, revenue from Industrial & Consumer products has continued its recovery, growing for a second consecutive quarter, by 14% from $13.3m last quarter to $15.2m (and up 4% on $14.6m a year ago).
Although still down 11.6% on $41.2m a year ago, revenue from Amplification, Filtering and Optical Routing (amplifiers, micro-optics, dispersion compensation, wavelength select switching (WSS) modules and subsystems and ROADM line-cards) has grown again, by 54% from $23.6m last quarter to $36.4m, due mainly to increased production output on flood recovery product lines.
While also down 11.6% on $31.1m a year ago, revenue from Telecom Components (lasers, modulators, laser pumps, receivers, and integrated lasers and modulators) has grown again, by 17% from $23.5m last quarter to $27.5m.
However, after peaking at $31.4m in the December quarter, revenue from Transmission Modules (10G and 40G transponders and transceivers) has fallen for a second consecutive quarter, by 10.6% from $28.3m last quarter to $25.3m (although still up 14% on $22.2m a year ago).
Non-GAAP gross margin has continued to recover, from 13% in the December quarter and 15.9% last quarter to 20.9% (though still down on 22.9% a year ago).
R&D expenses have risen from $14.7m last quarter to a more usual $16.9m, selling, general & administrative (SG&A) from $14m to $14.8m, and restructuring, acquisition & related costs have tripled from $2.2m to $6.7m. However, a gain on the sale of property and equipment of $11.6m led to overall operating expenses (OpEx) falling from $29.6m to $25.4.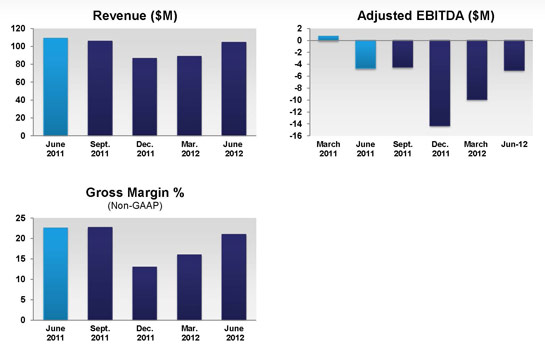 Recovery in Oclaro's revenue, gross margin and adjusted EBITDA since flood-hit December-quarter.
Adjusted EBITDA (earnings before interest, taxes, depreciation and amortization) has been halved from a loss of negative $9.9m last quarter to negative $5m, and is almost back to the negative $4.7m of a year ago.
Oclaro received $19m in net proceeds from the sale of its back-end assembly building in Shenzhen, China and $4.6m in additional insurance advances associated with flood-related losses. During the quarter, cash, cash equivalents and restricted hence cash rose from $51.1m to $62.4m.
Full-year fiscal 2012 financial results were materially impacted by the floods in Thailand. Revenue was $385.5m, down on$466.5m in fiscal 2011. Non-GAAP gross margin fell from 26.8% to 18.6%. Adjusted EBITDA was negative $33.7m ($1.21 per diluted share), compared with positive $17m ($0.04 per diluted share) in fiscal 2011.
For fiscal first-quarter 2013 (ending 29 September 2012), Oclaro expects revenue of $154-168m, non-GAAP gross margin of 17-21%, and adjusted EBITDA of negative $17-8m. However, this includes financial results of optical component, module and subsystem maker Opnext Inc of Fremont, CA, USA since its merger (announced in late March) was finalized on 23 July. Separately, demand for both Oclaro and Opnext is expected to be relatively flat on the June quarter. No real synergies of the merger will come into play in the quarter in terms of gross margin in particular, says Oclaro, so there will not be much change from a margin point of view from the two predecessor firms.
The merged company has now reorganized into three business units, combining all former Oclaro and Opnext business units: the Photonic Component business unit (PCBU, managed out of Europe but with R&D and new product introduction in China); the Module & Devices business unit (MDBU, managed out of Japan, combining Opnext's Japan team and California business unit plus some Oclaro products from Europe); and the Optical Network Solutions business unit (ONSBU, managed out of North America, but with new product introduction in China). In particular, since Opnext did not have a strong presence in Europe and Oclaro did not have a strong presence in Japan, the merged company creates a stronger global footprint, reckons the firm.
"With the close of our merger with Opnext, we are well positioned as the number 2 player in the optical components, modules and subsystems market," says chairman & CEO Alain Couder. "Moving forward we are focused on accelerating the synergies of our combined business and capitalizing on the strengths of our customer relationships, comprehensive product portfolio and technologies," he adds.
The original synergy plan (announced in March) targeted annualized savings of $35-45m after 18 months. However, the firm says that, compared with when the merger was announced in March, the market for second-half 2012 is now weaker (flat on first-half 2012), despite a pick up from selected customers in North America and in Japan. "Since March, we have seen the Chinese market slow down [in telco build-outs] while the European situation is not recovering," says Couder.
Oclaro has therefore now accelerated its synergy plan to target savings of $9m ($35m annualized, mostly in OpEx) as soon as the December 2012 quarter, rising to more than $45m (annualized) after 18 months. Actions to achieve the December-quarter target include the following:
the firm is now one public company instead of two;
reductions in workforce (related to the merger) have been triggered;
a new organizational structure eliminating R&D and product management overlap has been implemented;
R&D has been structured to approach the firm's investment model run rate of 13% of revenue exiting the December quarter.
sales & marketing organizations have been aligned; and
SG&A expenses (excluding information systems) to be reduced by nearly 20%.
According to Couder, improvement in profit margins will be primarily the result of two things: (1) component 'in-feed' (i.e. in-house use of Oclaro components in Opnext products, and of a couple of Opnext components in Oclaro products, whereas previously those components had to be bought in); and (2) moving manufacturing to low-cost regions and to contract manufacturers.
Specifically, regarding manufacturing strategy, Oclaro intends to focus on front-end wafer and chip fabrication by retaining it in-house (a long-term differentiator, and a "key opportunity to profit on leading-edge technology"). However, over the next two years, all back-end assembly & packaging will be moved to contract manufacturers. As well as the divesting of Oclaro's Shenzhen final assembly & test plant to the Malaysia facility of Singapore-based Venture Corporation Ltd (announced in late March), this outsourcing strategy now involves both the firm's Japanese and California back-end operations, as well as the move of Oclaro's back-end operations in Zurich, Switzerland to a combination of Venture and Fabrinet, and moving WSS assembly in New Jersey to Fabrinet.
Full integration is expected to take 18-24 months, so during calendar 2013 the firm reckons it should see a gradual improvement in margins. "We will also be refining the synergies and the related action plans beyond December and into calendar 2013," notes chief financial officer Jerry Turin.
Oclaro and Opnext complete merger
Oclaro's growth constrained by Thailand flood recovery and Shenzhen plant stoppage