3 August 2012
Veeco's MOCVD revenue falls 8% in Q2
For second-quarter 2012, epitaxial deposition and process equipment maker Veeco Instruments Inc of Plainview, NY, USA has reported revenue of $136.5m, down 2% on $139.9m last quarter and 48% on $264.8m a year ago.
| | | | | | |
| --- | --- | --- | --- | --- | --- |
| Fiscal | | | | | Q2/2012 |
| Revenue | | $268m | $191.7m | $139.9m | $136.5m |
Of total Q2 revenue, 36% came from record Data Storage revenue of $49.8m, up 12% on $44.3m last quarter (32% of revenue). The other 64% comprised LED & Solar revenues of $86.8m, down 9.2% on $95.6m last quarter (68% of revenue) and down 60% on $219.1m a year ago. This included revenue from molecular beam epitaxy (MBE) systems of $12m (down 14% on $14m last quarter) and revenue from metal-organic chemical vapor deposition (MOCVD) systems of $75m (down 8% on $82m last quarter).

Figure 1: Veeco's revenue and earnings as well as orders in Q2 vs Q1/2012.
However, Veeco reckons that its MOCVD market share has continued to rise, from 29% in 2009 to 44% in 2010 and 51% in 2011 to 62% in first-half 2012, becoming the number 1 supplier to six out of the 10 LED makers with the most merchant MOCVD tools. Also, after reaching revenue of nearly $100m in full-year 2011, in Q2/2012 Veeco's Services business achieved record quarterly bookings and revenue ($33.5m). "Veeco continues to deliver solid results in a soft market," comments chairman & CEO John R. Peeler.
Gross margin was 45%, falling back from 46.7% last quarter (which had been helped by a favorable mix in larger revenue from final acceptances). Although down from $51.1m a year ago, operating expenses (OpEx) have risen from $43m last quarter to $45m (impacted by salary increases that became effective earlier in the quarter, as well as equity compensation expense). R&D spending remained roughly flat sequentially, at about $24m.
Excluding certain items, earnings from continuing operations before interest, income taxes and amortization (adjusted EBITA) were $20.3m (15% of sales), down from $25m last quarter and $88m a year ago. Specifically, LED & Solar EBITDA fell from $17.5m last quarter to $9.6m (due mainly to lower revenue, lower margins and higher OpEx), while Data Storage EBITDA rose from $9m to $12.1m (due to higher sales volumes).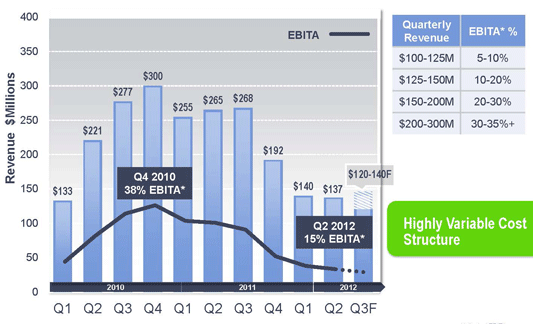 Figure 2: Veeco's variable cost structure.
"What Veeco has done really well was to plan for the downcycle," notes Peeler. "Over four years ago, we started building our operations strategy around a variable cost structure. We can go from $300m of revenue in an upcycle quarter to a $137m of revenue in a downcycle quarter and still make 15% EBITDA," he adds.
On a non-GAAP basis, net income has fallen from $63.4m a year ago and $19m last quarter to $14.5m. Operating cash flow fell again, more than halving from $42m last quarter to about $19m. Free cash flow was about $10m. During the quarter, cash and short term investments rose from $524m to $540m.
"As anticipated, we experienced a challenging bookings environment in Q2," says Peeler. Total orders were $102.5m, down 10% on $113.4m last quarter and 67% on $310.8m a year ago.
Of total Q2 bookings, Data Storage orders remained weak, down 12% on $28.8m last quarter to $25.2m (24% of total bookings). The other 76% of bookings comprised LED & Solar orders of $77.3m, down 8.6% on $84.6m last quarter and 72% on $273.3m a year ago. Of LED & Solar bookings, MOCVD orders were flat sequentially at $70m (albeit coming from more than a dozen customers) and MBE roughly halved from $15m to $7m. However, MBE business tends to be 'lumpy', says Veeco, often impacted by production buys from wireless customers, and there were no production buys in Q2/2012.
"Across our markets, macro-economic concerns and weakness in TV, PC and consumer electronics sales are delaying customers' capex purchases," says Peeler. "MOCVD orders appear to be bumping along the bottom and we have not yet seen a meaningful inflection in customer buying."
During the quarter, total order backlog fell from $305m to $241m. However, this was after a $30m adjustment (involving five customers). "We took a prudent action to remove certain MOCVD systems from backlog that no longer meet our backlog criteria," says chief financial officer & executive VP David D. Glass. "These backlog adjustments were primarily, although not exclusively, on Chinese deals. These were not order cancellations… we're still working with these customers," he stresses. Specifically, MOCVD backlog has fallen to $158m (with about 80% still destined for China customers).
For third-quarter 2012, Veeco expects revenue of $120-140m and gross margin of 44-45%. Operating expenses should be steady at $44-46m. Adjusted EBITA is expected to be $11.8m-20.6m (10-15% of revenue, in line with the target model). Non-GAAP net income should be $8.6-14.9m.
However, utilization rates are up at key customer facilities in Taiwan [80-95%], Korea [65-80%], and even in China [under 50% overall, but more than 80% at top players]. "We have seen a pick-up in quoting activity as customers plan future capacity expansions to ensure their position in LED lighting for 2013 and beyond," Peeler says. "We continue to win in the market due to our low-cost-of-ownership solutions that drive customers' yield and productivity, most recently through our new TurboDisc 'M' and 'HP' product suite."
"Second-half orders will improve gradually," expect Glass. "However, given the overall weak environment and customer uncertainty, we think it's prudent to dial back our [sales, general & administration] spending as we head into the remainder of the year. We're implementing some additional belt-tightening measures, particularly in fixed-cost areas, to drive OpEx lower," he adds. Veeco's aim is to get OpEx down to Q1 levels (about $43m) by Q4/2012. "This should put us in good shape to continue to remain solidly profitable, while at the same time, not giving up on any of our strategic priorities," reckons Glass. "Despite the business slowdown, we're keeping the R&D spending rate at about the same pace as 2011 levels, maintaining our accelerated product development programs," he adds.
"We are executing on our plan to deliver solid profitability in a down revenue year while investing for future growth," says Peeler. "At the mid-point of the year, we are tightening our 2012 revenue guidance to $520-560m [implying adjusted EBITDA of 13-16% of revenue]. Assuming macro-economic conditions do not worsen, we currently anticipate a gradual order recovery in the second half of 2012," he adds. Also, with 400 MOCVD reactors due to go 'off-warranty' in 2012 (prompting the sale of extended warranty plans) and Veeco's Asia service centers enabling customer training and process development support – together with the new VCE (Veeco Certified Equipment) business re-selling refurbished tools with Veeco warranties – Veeco's Services business is targeting 40% revenue growth for full-year 2012.
Veeco's revenue falls 27% in Q1, but MOCVD orders show modest rebound
Veeco's revenue falls 28% in Q4/2011 due to MOCVD down 32%
Veeco's Q3 growth suppressed by slowdown in TV demand and China push-outs
Veeco's Q2 yields record orders as MaxBright comprises 40% of MOCVD orders
Veeco's revenue drops 15% in Q1 due to 'lumpy' order patterns