20 August 2012
Rudolph appoints head of Inspection business unit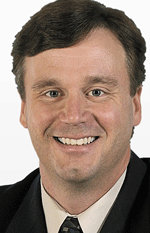 Rudolph Technologies Inc of Flanders, NJ, USA, which makes defect inspection, process control metrology, and data analysis systems and software for manufacturing integrated cicuits as well as flat-panel displays, solar cells and LEDs, has appointed Dr Michael Jost as VP & general manager of its Inspection business unit.
Picture: Dr Michael Jost.
Jost has over 20 years of experience with scientific products, initially in development, and most recently as VP & general manager of the Molecular Spectroscopy business unit at Thermo Fisher Scientific. He joined Rudolph in April as supply chain vice president and assumes general manager responsibilities immediately. Jost replaces Nathan Little, who will remain with Rudolph working on special corporate-wide growth initiatives.
"The inspection business continues to exceed expectations and now accounts for 60% of our total revenue," says chairman & CEO Paul McLaughlin.
"In addition to managing a broad product portfolio for both front- and back-end semiconductor manufacturing, Mike will lead the R&D of Rudolph's next-generation inspection solutions — a critical, ongoing effort that is required to address today's diverse and emerging process requirements," he adds. "In addition, he will oversee the company's centralized manufacturing operations located in Bloomington, MN."  
Jost has a B.S. in physics/mathematics from St. John's University and a PhD in materials science/chemical engineering from the University of Minnesota.
Tags: Rudolph
Visit: www.rudolphtech.com