1 August 2012
M/A-COM Tech launches push-pull CATV amplifier with low distortion and differential inputs and outputs
M/A-COM Technology Solutions Inc of Lowell, MA, USA (which makes analog semiconductors, components and subassemblies for RF, microwave and millimeter-wave applications) has launched a push-pull amplifier for CATV, FTTX, DBS, and HDTV applications where low noise figure and low distortion are required.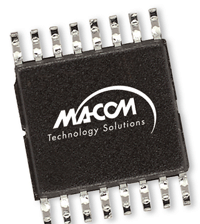 The MAAM-010144 is a gallium arsenide metal-semiconductor field-effect transistor (MESFET) monolithic microwave integrated-circuit (MMIC) amplifier. The MMIC design is configured as a pair of cascode MESFET amplifiers for optimal broadband performance. Using the firm's established 0.5µm MESFET process, the device is designed for integration in a 75Ω push-pull circuit and exhibits low distortion.
"With the introduction of the MAAM-010144, we continue to expand our portfolio of high-performance amplifiers for CATV infrastructure applications," says product manager Graham Board.
Packaged in a TSSOP 16-lead exposed paddle package, the MAAM-010144 provides high small-signal gain of 20.5dB and +8V DC bias. The CATV amplifier operates at 50-1000MHz and exhibits a gain flatness of 0.6dB and low noise figure of 5.5dB. The device is optimized at 75Ω with an input return loss of 18dB and an output return loss of 15dB.
Tags: M/A-COM Tech CATV amplifier GaAs MESFET
Visit: www.macomtech.com