9 August 2012
Packaged LED market to grow from $11.4bn in 2012 to $17.1bn in 2018
While growth in the LED industry came initially from small display applications and was furthered by LCD display applications, lower-than-expected adoption of LEDs in the TV market and the entry of several new players (mostly from Asia) in 2011 created a climate of overcapacity, price pressure and strong competition, summarizes the report 'Status of the LED Industry' from market research firm Yole Développement and the European Photonics Industry Consortium (EPIC). As a consequence, packaged LED volume was about 30% lower than expected and revenue shrank due to strong pressure on average selling prices (ASPs).
"In 2012, most companies have moved to the new 'El Dorado' of LED business, general lighting, which represents the next killer application for LEDs," says Pars Mukish, market & technology analyst, LED at Yole. "But enabling massive adoption of the technology for such an application still requires a large decrease in the cost of LED-based products," he adds.
Yole and EPIC estimate that the packaged LED market will $11.4bn in 2012 and peak at $17.1bn in 2018. Growth will be driven both by display (LCD TV) and general lighting applications, until the mass adoption of LEDs in lighting. From 2014, the third growth cycle in the LED business will accelerate, with general lighting representing more than 50% of overall packaged LED revenue. In terms of volume, LED die surface area will increase from 22.5 billion square millimeters in 2012 to 80 billion square millimeters in 2018. This will prompt growth in substrate volume at a compound annual growth rate (CAGR) of 26% from 8 million x 2"-equivalent (TIE) wafers in 2011 to 39.5 million x 2"-equivalent wafers in 2018.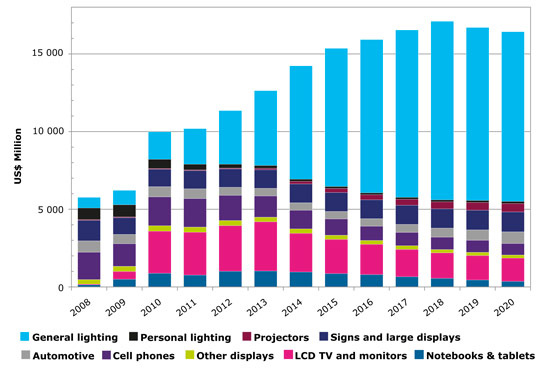 Packaged LED cost needs to fall by 10x for mass adoption in general lighting
However, the adoption of LEDs for general lighting applications strongly depends on improvements in technology and manufacturing, reckons the report. This is required to drive the performance and cost of LED solutions to a trigger point where mass adoption can start. Industry consensus indicates that the cost per lumen for packaged LEDs needs to fall by a factor of 10x.
The report suggests that this can be achieved through a combination of manufacturing efficiency and performance improvements, including access to larger-size wafers; improvements in LED epitaxy cost of ownership through yield and throughput; and improved packaging technologies (e.g. phosphors, optics etc). Additionally, improved package and luminaire design will also enable significant cost reduction ('design for manufacturability').
China's GaN MOCVD reactor capacity up 20-fold in last 3 years
GaN LED epitaxy capacity rose dramatically in 2010 and 2011 across all regions, but most dramatically in China (up 20-fold between fourth-quarter 2009 and first-quarter 2012).
However, "Most emerging Chinese LED epiwafer and die manufacturers are still lagging significantly behind their competitors in term of technology maturity and LED performance," notes Dr Eric Virey, senior analyst, LED at Yole.
The bulk of those new companies are not yet capable of manufacturing LEDs to address the large display and general lighting applications that are currently driving the market, reckons the report. In the mid-term, consolidation of the Chinese LED industry will occur (as per the scenario in the central government's new five-year plan), and China should become a major player in the LED industry.
New business models needed to capture added value of LED lighting
Ultimately, the long life-span of solid-state lighting (SSL) technology will totally change the lighting market by dramatically increasing the length of replacement cycles, forecasts the report. The replacement market (after-market) will be strongly impacted, pushing traditional players in the lighting industry to define new strategies to capture profit (such as intelligent lighting, lighting solutions etc).
"In addition, as value is moving to the top of the value chain (module and luminaire levels), several players that were originally involved only at LED device levels will develop strategies of vertical integration in order to capture more value," adds EPIC's general secretary Tom Pearsall.
However, accessing distribution channels represents a big challenge for those players that develop new approaches (such as e-commerce, new distributors etc) to sell their lighting products. The rise of LED lighting will therefore depend on appropriate combining of the emerging LED industry with the traditional lighting industry, concludes the report.
Visit: www.yole.fr
Visit: www.epic-assoc.com