30 April 2012
TriQuint launches integrated DVGAs to reduce base-station BOMs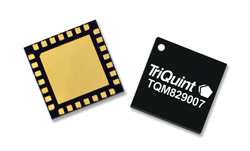 RF front-end component maker and foundry services provider TriQuint Semiconductor Inc of Hillsboro, OR, USA has launched two compact, digitally controlled variable gain amplifiers (DVGAs) that the firm says integrate key functionality and can reduce bill of material (BOM) part counts. The high-performance devices provide receiver or transmitter gain control in base-station transceivers, repeaters, point-to-point microwave radios, and satellite communications terminals. They also suit applications that require automatic gain control to increase system dynamic range.
The TQM829007 operates at 600-1000MHz, and the TQM879008 operates at 1.5-2.7GHz. Both are highly integrated modules that simplify circuit design by combining all required components within leadless 28-pin, 6mm x 6mm, industry-standard SMT packages. The modules include gain blocks, a highly linear amplifier, matching components, bias chokes and blocking capacitors, as well as a digitally controlled, 6-bit attenuator that varies amplifier gain in 0.5dB steps (across a 31.5dB range) via a serial programming interface (SPI). The TQM829007 has gain of 31.5dB, RF output of +24.3dBm P1dB (+39.5dBm OIP3), a noise figure of 2.1dB, and it draws a current of 174mA, while the TQM879008 has gain of 41.5dB, RF output of +27.3dBm P1dB (+48.5dBm OIP3), a noise figure of 3.9dB, and it draws a current of 285mA, both using a 5V supply. The new DVGAs operate over a temperature range of -40oC to +85°C and have a minimum MTTF (mean time to failure) of 1000 years at a mounting temperature of +85ºC.
TriQuint says that existing transceivers require the highest possible levels of functional integration with high performance to cost-effectively simplify RF design and manufacturing. The TQM829007 and TQM879008 are designed to achieve this goal, eliminating the need for commonly used external components found in discrete designs to provide a complete gain-control solution optimized for best performance. The DVGAs are also pin-compatible with TriQuint's TQM879006 DVGA, which covers frequencies of 1.4-2.7GHz and provides 31dB of gain control, +25.4dBm RF output and a 1.5dB noise figure.
The 600-1000MHz TQM829007 complements other TriQuint devices with similar performance at key cellular frequencies, including the TQM879006 (1.4-2.7GHz) and TQM879008 (1.5-2.7GHz.).
The new TQM829007 and TQM879008 are in production. Fully assembled evaluation fixtures (including a USB control board and related software) are available.
Tags: TriQuint Integrated DVGAs Base-stations
Visit: www.triquint.com