23 April 2012
Oxford Instruments' seminar in Shanghai attracts over 70 attendees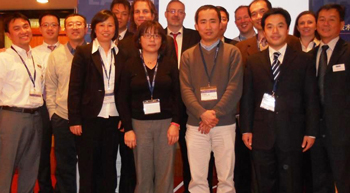 UK-based etch, deposition and growth system maker Oxford Instruments says that its recent Nanoscale Plasma Processing Seminar in Shanghai attracted more than 70 attendees from both academia and production, from China and Taiwan. The firm organizes such events worldwide several times each year, and has previously co-hosted with organizations such as the Institute of Semiconductors, Chinese Academy of Sciences (IOS-CAS) in Beijing, Lawrence Berkeley National Laboratory (LBNL), California Institute of Technology (Caltech) and Cornell University in the USA, the Universities of Southampton and Glasgow in the UK, and University of Eindhoven (TU/e) in The Netherlands.
Picture: Oxford Instruments' guest speakers at the Shanghai seminar.
Oxford Instruments says that these events aim to encourage interest in developments within industrial and research communities using plasma and ion beam etch and deposition process techniques. They suit participants wanting to learn more about the latest techniques and findings in an informal atmosphere where participation and interaction are encouraged.
The full one-day program in Shanghai included talks on atomic layer deposition (ALD), photovoltaics (PV), deep silicon etch and ion beam technologies. Invited guest speakers (all specialists in their field) came from China, Taiwan and Europe, and included TU/e professor Erwin Kessels; professor Chu Ann-Ku of the Department of Photonics in Taiwan's National Sun Yat-sen University; Dr Zhenghua Ye of the Shanghai Institute of Technology Physics (SITP); Dr Juncong She of Sun Yat-Sen University, China; and Jerry Wang, manager of the Microsystems Technology Center at ITRI, Taiwan. Process and applications experts from Oxford Instruments Plasma Technology (OIPT) also gave talks on the firm's technologies and process solutions.
"We were pleased to have attracted such a large and high-calibre audience to this seminar in Shanghai," says Mark Vosloo, sales, CS & marketing director, Oxford Instruments. "Our seminars offer a fantastic opportunity for the wider Plasma Processing community to meet and share their experiences, and to learn more from leading international experts in their field."

More seminars are planned by Oxford Instruments worldwide for 2012.
Visit: www.oxford-instruments.com