16 April 2012
Luminus adds Fraen's optics to boost LED center beam candle power and uniformity for retail spot lighting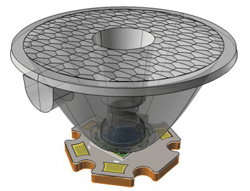 Luminus Devices Inc of Billerica, MA, USA, which manufactures PhlatLight (photonic lattice) LEDs for illumination applications, and Fraen Optics of Reading, MA (a division of Fraen Corp that designs and manufactures optics for high-powered LEDs) have announced the release of the FML series of patent-pending total internal reflection (TIR) optics, designed specifically to maximize the performance of Luminus' SST-90 and SSM-80 LEDs, in conjunction with Luminus' 'Big Chip' LED technology.
When mated with the SST-90 warm-white LED, the FML spot optic produces a full divergence angle of under 10-degrees with 17,000 candela and Energy Star-compliant efficacy. The FML series consists of a complete range of optics with output beam patterns including spot, narrow, medium, wide, elliptical and flood.
"The FML optics enable our customers to capture and deliver those lumens on task at unprecedented levels of intensity, efficiency and uniformity," says Luminus' global director of product marketing Chuck DeMilo. "Using an LED to outperform a 50W MR-16 halogen lamp used to be a dream, but the combination of technologies from Luminus and Fraen has made this a reality," he adds.
TIR optics are frequently preferred over reflectors due to higher optical efficiency and center beam brightness in spot lighting applications. The FML series has an innovative optical mixing chamber that homogenizes the input from the LED to deliver a uniform beam, says Fraen Optics' chief operating officer David Cohen. "Luminus LEDs are unique because optically they can be considered a high-intensity point source of light, and this opens many new degrees of freedom for our optical designers," he adds.
Luminus is exhibiting the new optics on Stand G02, Hall 4.2 at the Light + Building exhibition in Frankfurt, Germany (15-20 April).
Visit: www.luminus.com
Visit: www.fraenomg.com