10 April 2012
Lumileds' LUXEON M LED enters volume production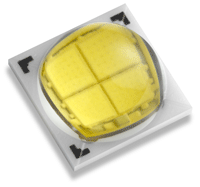 LED maker Philips Lumileds of San Jose, CA, USA has fully launched the LUXEON M LED, which is now in volume production. The new emitter has already been approved for street lighting in major US cities.
LUXEON M's high lumen output (of more than 1100 lumens) and typical voltage of 11.2V drives down system cost and improves system performance through the the use of low-cost, highly efficient drivers, Lumileds says, adding that the light output and efficacy at operating conditions lowers overall solution costs.
Solutions are simpler and use fewer parts and off-the-shelf drive electronics, optics, and thermal solutions that are readily available from distributor Future Lighting Solutions. As a result, costs are lowered while optical control and the quality of light required for outdoor lighting is optimized, claims Lumileds.
LUXEON M improves the design and cost parameters of new solutions in much the same way LUXEON Rebel did in 2007, claims Lumileds' VP of marketing Rahul Bammi. "Everything from the footprint to the drive requirements has been optimized based on hundreds of discussions with our customers, municipalities, and private property owners to ensure that LUXEON M exceeds their expectations and objectives," he adds.
The new LED is offered in three different correlated color temperatures (CCTs) of 3000K, 4000K and 5700K, and delivers more than 1100 lumens with a minimum color rendering index (CRI) of 70. Each LUXEON M is hot tested and specified at 85°C and delivers 'Freedom From Binning'.
The new products can be seen in the booths of both Lumileds and Future Lighting Solutions at the Light+Building trade fair in Frankfurt, Germany (15-20 April) and at Lightfair International in Las Vegas (9-11 May).
Lumileds launches LUXEON M for outdoor and industrial LED lighting
Tags: Philips Lumileds LEDs
Visit: www.philipslumileds.com