13 April 2012
GE adds Zhaga-compliant products to Infusion LED module range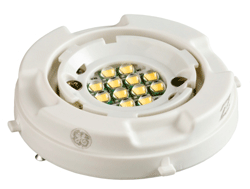 GE Lighting of Cleveland, OH, USA has announced its first Zhaga-compliant products. The firm's full range of Infusion LED modules will be shown at the Light+Building trade fair in Frankfurt, Germany (15-20 April), carrying the Zhaga logo based on the modules being designed to the approved Zhaga 'Book 5' specification for Socketable Light Engines with Separate Electronic Control Gear. As a global consortium of companies from the lighting industry and beyond, the Zhaga Consortium creates specifications aimed at ensuring the interchangeability of LED light sources from different manufacturers.
Picture: Infusion M4500 module.
"These specifications are the path forward for LED modules and fixtures that can truly transform the way we light commercial and residential spaces," believes John Strainic, GE Lighting's global product general manager. "Lighting designers and specification professionals around the world now have more freedom to think big because GE and the industry have progressed toward standards established by the Zhaga Consortium."
GE Lighting is also extending its Infusion LED module range with the introduction of four new products: a module for downlight applications; a modular system for creating high-intensity narrow beams; a new format spotlight engine based on Zhaga specification in 'Book 3'; and a high-lumen option. All have been designed with new interchangeable light engine specifications recently approved by the Zhaga Consortium.
GE Lighting is also launching its range of Lumination LED Downlights luminaires, which incorporate Infusion modules.
GE Lighting has been a member of the Zhaga Consortium since it was formed in February 2010. In view of the rapid and sustained development of LED technology, the consortium focuses on the mechanical, photometric, thermal and electrical compatibility of LED modules and controls. More than 180 firms from Asia, Europe and the USA have already joined the consortium, including luminaire and lamp manufacturers, LED module makers, and suppliers to the lighting industry.
"Modularity and interchangeability will benefit manufacturers and end-users alike," says Andy Davies, GE Lighting's sales development director for LED modules. "The adoption of Zhaga specifications will speed product introduction and reduce risk and development cost, while still encouraging design innovation. The further we travel down this path, the more accessible LEDs will become," he adds. "The launch of our Zhaga-compliant Infusion modules, and the other product developments that will be introduced at Light+Building, represent a significant milestone on the road to interchangeability."
Tags: GE Lighting LEDs
Visit: www.gelighting.com
Visit: www.zhagastandard.org