11 April 2012
Edwards' new turbo pump boosts throughput by 40% and maximum flow by nearly 90%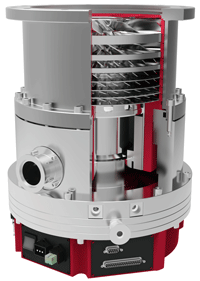 Vacuum and exhaust- abatement equipment maker Edwards Ltd of Crawley, UK has launched the STP-iXR1606 series of magnetically levitated turbo-molecular pumps (TMP) with a fully integrated onboard controller.
The new TMP incorporates a new rotary design that delivers about 40% improvement in throughput at high gas flow rates and an increase of nearly 90% in maximum gas flow compared to existing products, it is reckoned.
"It matches the peak pumping speed of our highest performing pump in the 8-inch TMP class, but with significant improvements in throughput performance and maximum allowable gas flow," notes STP product manager Masahide Tanaka.
The fully integrated controller eliminates the connection cable and rack conventionally required with a non-integrated controller. This helps to reduce the footprint (saving fab real estate) as well as installation time and cost. The onboard controller also incorporates a small power supply which - compared to existing products - delivers a reduction in energy consumption of about 32% at high gas flows.
"As with all of our magnetically levitated TMPs, it requires no maintenance," says Tanaka. "The STP-iXR1606 series provides our customers with an all-in-one TMP solution for all their applications, with reduced footprint, simplified installation and reduced energy costs."
Edwards says that the STP-iXR1606 series delivers high reliability in dirty environments with equivalent IP54 protection against dust and humidity. It also has I/O remote, RS232C, RS485 and STP-link standard communication ports, with Profibus and DeviceNet available as options.
Tags: Edwards
Visit: www.edwardsvacuum.com