16 April 2012
Cree's XLamp MT-G2 LEDs 25% brighter than MT-G due to SC³ Technology Platform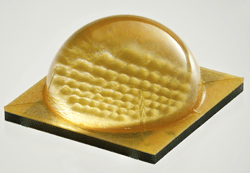 LED chip, lamp and lighting fixture maker Cree Inc of Durham, NC, USA has launched the XLamp MT-G2 LED – the first EasyWhite LED array built on the SC³ Technology Platform.
The MT-G2 LED delivers LED lighting makers 25% brighter LEDs compared to the previous MT-G, enabling a wider spectrum of high-lumen applications. MT-G2 LEDs are designed for high-output, directional lighting applications and suit replacement lighting for applications that currently use halogen lamps. The new LEDs are optimized for use in track, accent, lamp retrofit, downlighting and other applications where color quality, consistency and optical control are required.
"The MT-G2 LED truly pushes the envelope of what's possible, redefining lumen levels and efficacy while delivering color consistency and superior optical control," comments Richard Turner, R&D director at lighting firm Havells Sylvania. "Combined with the small footprint and uniform emitting surface, the MT-G2 is an especially attractive device to further grow our leading position in professional-quality LED retrofit lamps," he adds. 
Featuring Cree EasyWhite Technology, the MT-G2 LED delivers up to 2100 lumens in warm white (3000K) at 25W, 85°C. The new, brighter LED shares the same footprint as the original MT-G, providing an upgrade path to shorten the LED luminaire and retrofit lamp design cycle and improving customer time-to-market, claims Cree. The MT-G2 is designed to be used as a single component in an LED design to better emulate the filament appearance of incumbent lighting products and simplify design and manufacturing.
"Innovation in performance and optimization of LEDs to a variety of applications are critical to driving LED adoption," says Mike Watson, Cree's senior marketing director, LED components. "The new MT-G2 LEDs enable true halogen performance across a wide range of single-source lighting applications and provide the industry's best color consistency," he claims. 
The MT-G2 is the latest product built on Cree's SC³ Technology Platform, joining XB-D, XT-E, XT-E High-Voltage and XM-L High-Voltage LEDs. Built on Cree's silicon carbide (SiC) technology, the platform features advances in LED chip architecture and phosphor, as well as a new package design.
With an 8.9mm x 8.9mm footprint, the MT-G2 is available in 2- and 4-step EasyWhite color temperatures ranging from 2700K to 5000K. The new LEDs are available in minimum 80 and 90 CRI (color rendering index) options and feature multiple voltage selections, including higher voltages that enable the use of smaller, more efficient drivers to lower system cost.
The new new MT-G2 LED can be seen in Hall 4.2, Stand G71 at the Light+Building trade fair in Frankfurt, Germany (15-20 April) and booth 130 at Lightfair International in Las Vegas (9-11 May). Samples are available now and production quantities are available with standard lead times.
Cree SC³ Technology Platform yields brighter, high-voltage versions of XT-E and XM-L LEDs
Visit: www.cree.com/accelerate