20 April 2012
BluGlass grows high-quality crystalline GaN using low-temperature RPCVD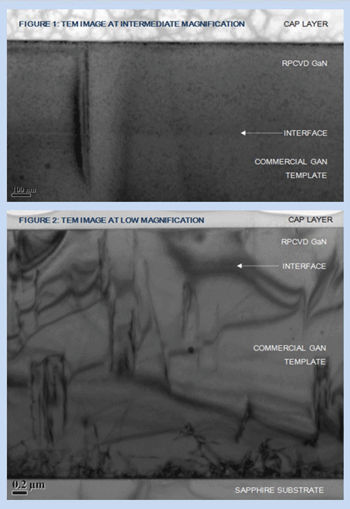 BluGlass Ltd of Silverwater, Australia says that it has advanced its proprietary remote-plasma chemical vapor deposition (RPCVD) technology in recent months and that has now produced high-quality gallium nitride (GaN) at low temperature on a commercial metal-organic chemical vapor deposition (MOCVD) GaN template.
Spun off from the III-nitride department of Macquarie University of Sydney, Australia in 2005, BluGlass has developed a low-temperature process using RPCVD to grow materials including gallium nitride (GaN) and indium gallium nitride (InGaN) on glass substrates, potentially offering cost, throughput and efficiency advantages for the production of LEDs.
Transmission electron microscopy (TEM) analysis of its samples by an independent third-party expert has now confirmed a 'radical improvement' in GaN top-layer film quality and an 'impressive microstructure' with a low defect density consistent with the underlying commercial MOCVD GaN template.
BluGlass says that low-defect-density high-crystallinity material grown at low temperature using RPCVD is a breakthrough for the firm, essential to demonstrating the technology's commercial potential for the LED equipment market. The firm reckons that its RPCVD technology, due to its low-temperature and highly flexible nature, offers manufacturers many potential benefits, including higher efficiency, lower costs and greater scalability.
The firm says that the improved material quality has been enabled mainly by progress in reducing trace amounts of chemical impurities incorporated into GaN films during growth. BluGlass says that its research has previously been limited by the presence of two critical impurities that significantly affected material quality. Through process iterations and hardware upgrades, one of the impurities (oxygen) has now been reduced almost to levels acceptable to industry, so that it is now no longer affecting material quality. The other critical impurity (carbon) is also actively being reduced towards acceptable levels.
"These achievements demonstrate for the first time that high-quality crystalline GaN films can be grown at low temperature using RPCVD," says CEO Giles Bourne. "This is a critical step in proving to industry the potential of breakthrough technology," he adds. "A low-temperature commercial process would have truly exciting implications for the LED industry," he believes. "It has the potential to offer significant advantages for both device performance and low-cost manufacturing."
BluGlass is now focused on reducing the impurity levels further to within industry accepted ranges, to enable the firm to reach, in the short term, the following technical milestones: (i) producing films with properties similar to MOCVD-grown films (with industry-accepted electrical properties); and (ii) demonstrating improved device efficiency (confirming RPCVD's competitive advantages).
The firm believes that achieving these milestones will lead to customer engagement and the placing of a demonstration tool with a leading LED maker. Also, the technical advances are expected to result in new intellectual property, for which BluGlass aims to file patents.
Visit: www.bluglass.com.au